Best Degreaser

The Professional Helps You Pick the Best
Just what makes anything the best? Finding the best degreaser will ultimately be the winning combination of benefits; but only you can decide what that winning combination is going to look like.
As a professional detailer I will have as many requirements if not more, than most of you. And just like every other area of life...not all degreasers can hold the title of best engine degreaser or best all purpose degreaser. Each formulation is going to be a combination of benefits and compromises....
Best Degreaser and the Winning Combination

Since my strategy in every area of life is all about working smart not hard, my list of requirements will ultimately have to be reduced down to basic requirements:
Can the product produce the results.




Is the product cost effective.

Is the user experience acceptable.

Is the product safe for all parties involved.
Everything I do in my professional world of auto detailing will be about delivering superior results with the least amount of effort, in the least amount of time; a true win/win for both sides.

Best Degreaser: Engines, upholstery, etc.

Since this product from Meguiar's is labeled as a super-degreaser, it would be natural to limit this product to engine degreasing only.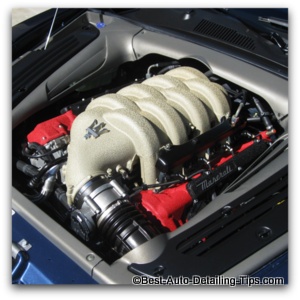 But the fact is I use this product as an all purpose degreaser and cleaner. If my APC (all-purpose-cleaner) from Meguiar's is insufficient for the cleaning job on hand, I will be reaching for this next level of strength with this degreaser detergent product.
In my opinion this product would be more appropriately labeled as an all purpose degreaser due to the fact that it is safe for so many other cleaning tasks associated with detailing. Aside from using it as my best engine degreaser, I use it when detailing most car interiors at some point.

---
Simple Green Crystal



Simple Green 19128 Crystal Industrial Cleaner/Degreaser, 1 Gallon Bottle
The degreaser I use professionally.


Is not caustic like many of the "hot" degreasers you can get professionally.

Doesn't leave a white residue like other degreasers.

Not only safe to your health, but safe to the health of the environment

Rinses very clean

Concentrate so you can custom blend to suit your needs
This Simple Green Crystal has many uses, and based on what I use it for will determine how I dilute it down. I use this degreaser/cleaner for the more dirty jobs of detailing. I use the same dilution ratio for the following "dirty detailing jobs". I dilute down 4:1 (this means one part of concentrate added to 4 equal parts of water)
Wheel Cleaning
Tire Sidewall Cleaning
Engine Cleaning
Wheel Well Cleaning
Simple Green Original



Simple Green 13005CT Industrial Cleaner and Degreaser, Concentrated, 127.8 Fl Oz, Pack of 1
The Simple Green Original is my "go-to" for all my car interior cleaning
I dilute my interior cleaner down 10:1
Safe for virtually any material within your car: leather, vinyl, plastic door panels, dashboard, cloth, velour, Alcantara, etc.

---
Chemical Resistant Sprayers




Bar5F Empty Plastic Spray Bottles 32 oz, Chemical Resistant, Professional, Heavy Duty, Fully Adjustable Head Sprayer, Pack of 3 (Grey)
The actual sprayers I use professionally.

The most ergonomically friendly sprayers I have found.

The sprayers you will see in many of my videos.
There are not a shortage of sprayers you can pick and choose from. With that said, I use these exact sprayers professionally and find them the most user friendly. With that said, you will never find a sprayer that lasts forever regardless of what claims are made.
But for the money, I have chosen these year after year in my professional world and continue to use them to this day. I also use and recommend using a pump garden sprayer when using any product you have decided is the best degreaser for you. It will save your hand with repeated pumps from a traditional hand-held sprayer for any of those big jobs like degreasing an engine.
I hope these reviews have helped and I wish you happy cleaning!
Sincerely,


---