Car Engine Degreaser:
Learn what is safe and effective!


Finding a top rated car engine degreaser is a subject of auto detailing and car care with endless opinions! Some will say what to use while others will disagree.
Having a clean engine for many of us is as important as keeping wax on our cars. While the list of benefits of having a clean and detailed car engine is long, most people find themselves stuck between choosing an effective top rated engine degreaser, and how to actually go about degreasing their engine in a safe manner.
The opinions on this subject are endless and a quick search will deliver limitless contradicting opinions as to what to use and how to do it.
Top Rated Car Engine Degreaser

Before I address the process of cleaning and detailing your car engine and engine bay. we need to find a top-rated car engine degreaser.
One that is very effective.

One that is completely safe.

One for the driveway detailer.

One for the beginning professional.
See how I just took a subject that most people think is simply about buying the best automotive engine degreaser and turned it into a more complex question....
with that said, I need to offer you a solution to your need broken down to a level that is most ideal for you and your world.
"What is best for one person, may not be the best for the next person"
Meguiar's Super-Degreaser

(Use either the image or text link to order your super-degreaser from the secure Amazon link below)



Meguiar's D10801 Super Degreaser - 1 Gallon
This is professional grade and only comes in a gallon size.

Concentrate; blend according to label directions.

Heavy duty car engine degreaser that can tackle endless dirty jobs based on your dilution ratio; not just dirty car engine's.




What is referred to as a non-caustic degreaser that is very strong, but not like the commercial grade (hot) caustic degreasers.

Will not leave white residue like many other degreasers.

Safe for use on all engine types for cleaning and detailing.
Gunk Engine Degreaser

(Use either the image or text link to order your degreaser from the secure Amazon link below)



Gunk EB1 Engine Brite Original Heavy Duty Engine Degreaser - 15 oz.
Perfect size for the driveway detailer or for DIY use.

Safe for any engine type.

The exact product I grew up using before I was a professional detailer.

Follow instructions on labeling.
Why Would You Want a Clean Engine?

In case you came here looking for more than just the best car engine degreaser but wanted to know the actual steps, I recommend you follow this how to clean a car engine link.
Use this check list to see if I can help you come to an informed decision:
A clean engine is a happy engine.

Help the resale value of your car.

A clean engine will show the first signs of potentially risky oil leaks.

Your mechanic will not only thanks you, but treat your car and engine with a higher level of consideration relative to the way you maintain your car's engine.

Who wants to lift the hood of your car and see a dirty, filthy engine?
"Which engine would you rather see under the hood of your car every time you open it?"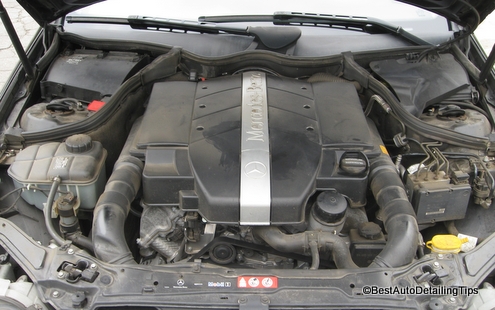 ---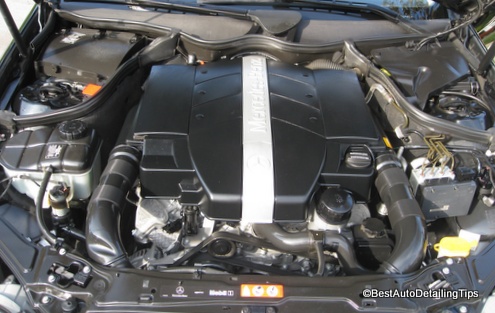 I think the above pictures make a compelling argument as to what I think most people would prefer....but only you can decide.
Like I said before, if you want to know see the more in-depth "how-to" tutorial, along with my professional recommendations of the other tools need to really clean and detail your car's engine, see How to clean a car engine link. It will open in a new page so you can not lose your place here.
See Darren in action at his YouTube channel or watch his car engine cleaning video below.

Make sure you check out and subscribe to my YouTube video channel as I continually upload more and more tutorial videos that are taken straight from my world as a professional detailer at Auto Fetish Detail. You can subscribe with my YouTube icon just below!
Sincerely,


---
Home

>
How to Detail a Car
>> Car Engine Degreaser