Car Engine Degreaser:
Learn what is safe and effective!


Finding a top rated car engine degreaser is a subject of auto detailing and car care with endless opinions! Some will say what to use while others will disagree.
Having a clean engine for many of us is as important as keeping wax on our cars. While the list of benefits of having a clean and detailed car engine is long, most people find themselves stuck between choosing an effective top rated engine degreaser, and how to actually go about degreasing their engine in a safe manner.
The opinions on this subject are endless and a quick search will deliver limitless contradicting opinions as to what to use and how to do it.
Top Rated Car Engine Degreaser

Before I address the process of cleaning and detailing your car engine and engine bay, we need to find a top-rated car engine degreaser.
One that is very effective.

One that is completely safe.

One effective and safe for both the professional and the hobbyist


See how I just took a subject that most people think is simply about buying the best automotive engine degreaser and turned it into a more complex question....
With that said, I need to offer you a solution to your need broken down to a level that is most ideal for you and your world.
"Darren, what would you do?"
Often i am simply asked by my long term followers what I would do. So I will tell you not only what I would do, but how I do it and the exact chemicals and tools I use to do it with.
Car Engine Degreaser:
The Better and Safer Way to Degrease



Simple Green 19128 Crystal Industrial Cleaner/Degreaser, 1 Gallon Bottle
Concentrate that allows you to custom blend to suit your exact needs (refer to product labeling for dilution ratios)

Concentrate means it is more economical to you (This means more money left in your pocket)

The exact car engine degreaser I use both professionally and personally

I dilute this cleaner down 5:1 when degreaser a car engine (this means I mix one part of concentrate to 5 equal parts of water)

Friendly to my health and friendly to the environment

No more caustic fumes for me to breathe when I am detailing car engine

Non-flammable, non-caustic, and rinses very cleanly
Darren's Note: I discovered this specific product a short time ago and have now been using it with great success and satisfaction for use in car engine detailing, wheel cleaning, tire side-wall cleaning, and a host of other uses.
I love the fact that it contains no caustic chemicals that are harmful to me or the environment but still incredibly effective. Since I use this mostly to clean my wheels and car engine, I love combining it with the 1-gallon pump sprayer below to deliver large amounts of the chemical that will be needed to effectively clean my car engine and car wheels.
Car Engine Degreaser:

Dispensing Your Car Engine Degreaser


Bar5F Empty Plastic Spray Bottles 32 oz, Chemical Resistant, Professional, Heavy Duty, Fully Adjustable Head Sprayer, Pack of 3 (Grey)
Professional grade spray bottles and spray heads
The exact sprayers I use professionally
The most ergonomically friendly sprayer heads I have ever used
Can be used with any of your chemicals or auto detailing products
Chemical resistant sprayers


Smith 190285 1-Gallon Bleach and Chemical Sprayer for Lawns and Gardens or Cleaning Decks, Siding, and Concrete
My first choice in a dispenser for detailing tasks that require larger volumes of product
Eliminates the arm fatigue in trying to dispense large amounts of chemical in a traditional pump sprayer like those above
Mix your car engine degreaser in this and cover the entire area of your car engine in a matter of seconds
Handy wand extension allows you to reach to areas that would require you to bend over in uncomfortable ways
Handy extension wand allows you to precisely spray engine degreaser exactly where you want and into tight areas of your car engine


Chemical Guys ACC_G09 Body and Wheel Flagged Tip Short Handle Brush
Perfect brush for excessively dirty areas of your car engine that may need a little manual agitation
Long bristles that are feathered at the ends for safe cleaning
Also a great brush in your car wheel cleaning efforts
Super Clean Engine Degreaser



SuperClean 101786 32oz Multi-Surface All Purpose Cleaner Degreaser Spray, Biodegradable, Full Concentrate, Scent Free, 32 Ounce
Perfect size for the driveway detailer or for DIY use

Safe for any engine type

Produces real-world, professional results


Follow instructions on labeling

Comes full strength for heavy duty engine degreasing, or can be diluted down for less dirty jobs

Not just a car engine degreaser, but can be diluted down for many cleaning uses for both automotive and home use

Why Would You Want a Clean Engine?

In case you came here looking for more than just the best car engine degreaser but wanted to know the actual steps, I recommend you follow this how to clean a car engine link.
Use this check list to see if I can help you come to an informed decision:
A clean engine is a happy engine.

Help the resale value of your car.

A clean engine will show the first signs of potentially risky oil leaks.

Your mechanic will not only thank you, but treat your car and engine with a higher level of consideration relative to the way you maintain your car's engine.

Who wants to lift the hood of your car and see a dirty, filthy engine?
"Which engine would you rather see under the hood of your car every time you open it?"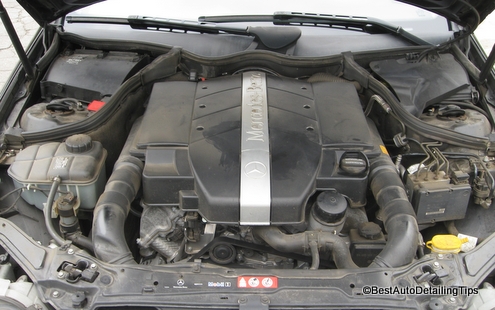 ---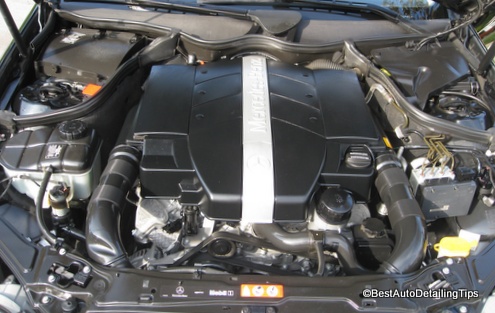 I think the above pictures make a compelling argument as to what I think most people would prefer....but only you can decide.
Like I said before, if you want to know see the more in-depth "how-to" tutorial, along with my professional recommendations of the other tools need to really clean and detail your car's engine, see How to clean a car engine link. It will open in a new page so you can not lose your place here.
Make sure you check out and subscribe to my YouTube video channel as I continually upload more and more tutorial videos that are taken straight from my world as a professional detailer at Auto Fetish Detail. You can subscribe with my YouTube icon just below!
Sincerely,

---