Car Engine Picture

Car engine's detailed to perfection

Welcome to the car engine pictures of meticulously detailed automotive engine's! While many people never give their car engine's a second thought, there are those among us who consider the cleanliness and beauty of their car engine as integral as the cleanliness of any other part of their car.
I for one believe that a clean engine is a happy engine; meaning, you treat a car engine with respect with proper mechanical maintenance, as well as cosmetic maintenance, and your engine will treat you nicely. I have had many cars in my lifetime which have exceeded 150K miles and continued to operated smoothly with no major problems other than traditional maintenance, and this included keeping the engines clean and detailed on regular intervals.
Detailing Perfection!

Car Engine Picture(s)
Follow along with these car engine pictures and see if you don't come to some new conclusions about meticulously clean and detailed car engine's!

Ferrari F430

This Ferrari F430 is a stock version of this Italian stallion. Fitted in this red convertible Spyder, the stock exhaust note is something to be experienced first hand and can be heard from blocks away! This customer was having me go through this Ferrari once again in hopes of selling in order to upgrade to a V12 Ferrari.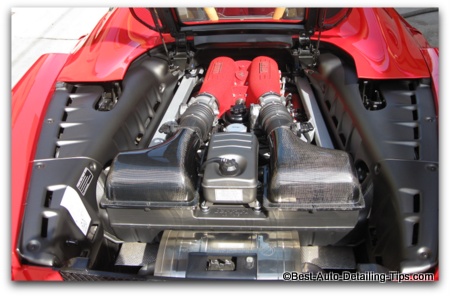 Porsche Cayenne Turbo GTS

This Porsche car engine picture comes from an upgraded Porsche Cayeene Turbo fitted with the GTS body kit. One of my favorite SUV's that fit perfect into the Southern California lifestyle that combine style, prestige, and an elevated driving position.

Maserati
This auto engine picture comes from a Maserati that spends most of the time within the confines of a garage. The owner passed away and his late wife keeps it up through my professional detail services.

BMW 328i

One of the benefits of professional auto detailing is the ability to work on many different types of cars from all level of society. This engine picture comes from a convertible BMW. Nothing too dramtic here other than exceptional clean!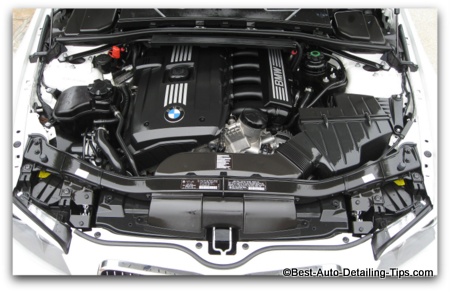 Mercedes E63 AMG
This amazing piece of German engineering can be found in this scorching E63 AMG that promises to warp your retina's! Tuned exhaust note discriminates it within any public setting.

Porsche Carrera Turbo
This Porsche Turbo engine is in normal aspiration mode with no additional engine modifications. The owner left all modifications to the suspension and aftermarket wheels and tires.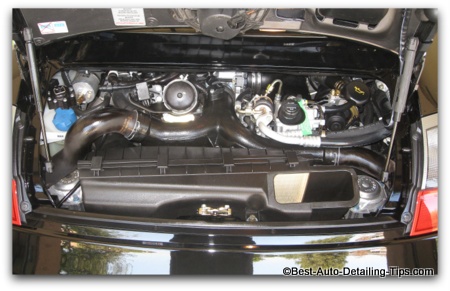 Mercedes CL63 AMG
This engine rests within the amazing Mercedes AMG CL63. This 6.3L V-8 is amazingly quick despite the enormous weight of this car. The exhaust note is an unexpected treat to the ears uncommon to traditional Mercedes cars. With a growl that puts your ears on alert from a considerable distance until culminating into a tantalizing symphony for your senses!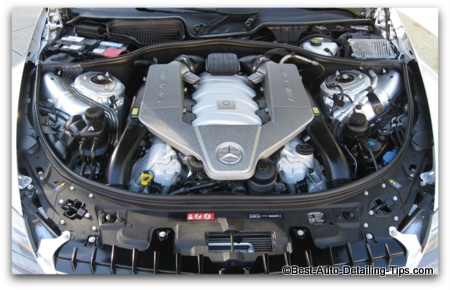 Automotive Engine Pictures

If you have enjoyed these pictures of finely detailed car engines half as much as I did detailing them, then I have succeeded in bringing some of the satisfaction I get from the world of professional auto detailing to the pages of this website!
Sincerely,


---