DeWalt Polisher Review
Top Pick among professional car buffers!


The DeWalt Polisher represents the winning combination of benefits for all skill levels. Whether you are a seasoned veteran or a fresh out-of-the-box newbie, the DeWalt car buffer ranks as one of my personal top picks of car polishers.
The industry as a whole has responded to the needs of beginners and high end car polishing by engineering the latest generation of rotary buffers with much lower RPM speeds.
Most rotary car polishers now have operating speeds starting at an incredibly low 600 RPM. And in the event you are not familiar enough with rotary car buffers, 600 RPM's is very, very slow. This makes for not only a safer user experience, but the ability to do aggressive cutting and compounding that rotary polishers are known for, but the ability to do finish "jeweling" as the industry like's to call it.
DeWalt Polisher Review

"The DeWalt car polisher is a work horse! In my opinion, anyone shopping with a limited budget cannot go wrong with this choice as one of the top rated car polishers."
Why Choose a DeWalt Car Buffer

Light weight, heavy-duty construction
True professional grade
Soft-start trigger
Variable speed settings; 600-3500 RPM's
(2) handle choices for perfect fit
From true beginner to seasoned veteran
Wide range of job applications; car paint, gel coat, fiberglass
One of my personal favorites
Many of you will struggle in choosing between a rotary and a DA buffer. There is a certain "status" that comes with the ability to use and be proficient with a rotary buffer.
After all, they do require a higher degree of skill set if you are going to fully maximize all the potential that exists with rotary car buffers.
In today's world of professional auto detailing, rotary's are quickly becoming extinct due to the advances made with the latest in DA random orbital car polishers.
Darren's Professional Tips: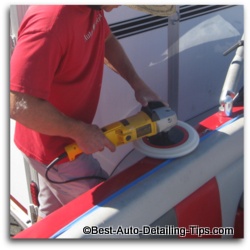 The main problem you will be up against in today's world of the Internet will be too much information, not lack of information.

The forums are filled with misinformed people repeating bad information that leads many people to wrong conclusions. Today's high-speed polishers that have been engineered with low start speeds are every bit as safe and easy to use as any orbital car buffer. The critical point being that you use caution and keep the speed setting adjusted according to your experience.

With that said, in all likely hood you will naturally start with a random DA car polisher and work your way up to a rotary. If you are struggling as to which type of car polisher you should start with, read my page on Car Buffer Review: Choosing the right car polisher.
DeWalt Polisher:

The winning balance between performance and price!
Use the secure link below to get your professional car buffer from DeWalt and experience the precision first hand for yourself! Whether you are a first time car polisher to a seasoned car detailer, you will not be disappointed as these car polishers are built to last a lifetime!



DEWALT Buffer/Polisher, Variable Speed, Soft Start, 7-Inch/9-Inch (DWP849X)
I hope this page has offered a real world perspective on the DeWalt buffer. I have owned mine for so many years I have lost count. It continues to be the work horse it was from the beginning.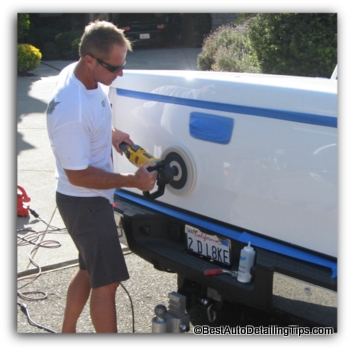 Despite the bad press rotary car polishers continue to endure, no DA buffer can match the ability to perform paint correction and compounding like that of a rotary. Essentially a rotary polisher allows you to get from point A to point B far quicker than any DA will ever be able to do.
And when time really is money, many guys eventually come to the conclusion that learning to be proficient with a rotary is really going to make them more profitable!
I am one of those people.
Sincerely,


---