How to Clean Car Interior

The industry has you chasing your tail
It is only a matter of time. You want to know how to clean car interior.
But what if I told you the industry has you chasing your tail?
If you were to buy into what the industry is selling, you would soon have the shelves of your garage filled with countless cleaners all labeled as the perfect cleaner based on the very specific area of your cars interior you want to clean.
But there is a much simpler way!
How to Clean Car Interior

Darren's Tricks from His Professional World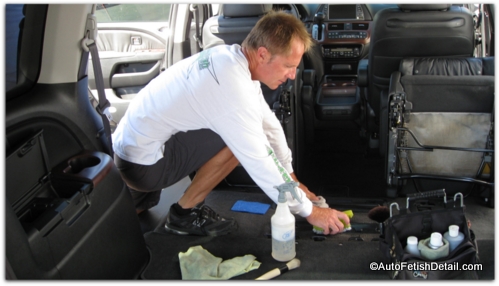 Here is my logic: If I can make thousands of people extremely happy cleaning the interiors of their cars as a professional detailer over the course of 30+ years, I believe I have learned a thing or two.
These are the very tricks and tips I am about to teach you so you too can get professional level results in your world.
How to Clean Car Interior:

Car enthusiast, Driveway Detailer, or Beginner Detailer
Since the industry is filled with so many choices in car upholstery cleaners, it will be important for me to break this page into two categories based on you and your needs.
Driveway Detailer, Car Owner, Hobbyist: This will most likely be you. (You will be concerned with cleaning your own cars) and will not need gallons of upholstery cleaners.
Professional Detailer: Since I have many guys who find my website who either want to enter the world of professional detailing like myself, or are new to the business and are looking for some professional experience from myself.
Car Upholstery Shampoo:
Keeping It Simple for Beginners

Pick from the products below if you are looking to clean the car interior of your own car. You don't need gallons of cleaners and you want as simple and straightforward as you can get with ready-to-use (RTU) products.



Adam's Carpet & Upholstery Cleaner - Easy to Use and Effective on Even the Worst Stains - Safe, Non-toxic and Hypoallergenic (16 oz)
One of my newest favorites. ( I met Adam at the resent SEMA show in Las Vegas and he introduced me to his interior shampoo. I was completely impressed and now recommend it)
Ready to use and ready to tackle all forms of dirt you will find in your cars interior.
The sprayer is a quality sprayer unlike many of the ready to use car upholstery shampoos I have tested over the years.
You won't be disappointed.
Can be used on any material you will find in your car: carpeting, velour, fabric of all kinds, vinyl, rubber, plastic, and even leather.


Griot's Garage 10956 Interior Cleaner 22oz
Another excellent ready-to-use car interior cleaner.
Also another one of my favorites. (I also met Richard Griot at the SEMA show and he turned me onto his car upholstery shampoo and have recommended it ever since)
Can be used to clean any material within your cars interior: carpeting, velour, fabric of all kinds, vinyl, rubber, plastic, and even leather.
You won't be disappointed.
How to Clean Car Interior:

Car Upholstery Shampoo for Professionals
The following products are excellent car interior cleaners and can be used by professionals and car owners alike. The main difference is these versions are concentrates which make them more economical for anyone looking to do lots of cleaning. You will also need a separate sprayer to mix these interior cleaners in.



3D Auto Detailing Products 3D Upholstery & Carpet Shampoo - 16 oz | High Foam Stain Remover | Clean & Deodorize | Odor Eliminator | Made in USA | All Natural | No Harmful Chemicals
One of my favorite professional car upholstery cleaners.
Concentrate so you can custom blend according to your preference.
Economical for any professional or do-it-yourselfer who likes to save money.
Can be used on all materials within a cars interior: carpeting, velour, fabric of all kinds, vinyl, rubber, plastic, and even leather.


Chemical Guys CWS_103 Foaming Citrus Fabric Clean Carpet & Upholstery Shampoo (16oz), 16. Fluid_Ounces
Another one of my top picks when you want to know how to clean car interior.
Concentrate so you can custom blend.
Economical for any professional or do-it-yourselfer who likes to save money.
Can be used on all car interior materials: carpeting, velour, fabric of all kinds, vinyl, rubber, plastic, and even leather.
How to Clean Car Interior:

Tools for professional results
Quality car interior cleaners is the place to start and now you are equipped, but we can't stop there. Having the right tools will not only deliver better results, but make the user experience for you much more enjoyable.
Cleaning for most people is a necessary evil so we don't want cleaning car interiors any more evil than it already is!



Rubbermaid Commercial Products - Rubbermaid Commercial - Iron-Shaped Handle Scrub Brush, 6" Brush, Yellow Plastic Handle/Blue Bristles - Sold As 1 Each - Molded handle gives you a powerful grip. - Long-lasting blue polypropylene fill resists stains. - Durable plastic block.
It doesn't get any more basic than this upholstery brush.
If I had to live with a single upholstery brush I would be happy with this.
Not too stiff and not too soft.
Perfect size for most car interior cleaning.


Mothers Carpet & Upholstery Brush
One of my favorites.
Stiffer than the others on this page.
Ideal for carpeting and floor mats.
This is a very stiff brush so I reserve this for the heavy duty scrubbing and the more "durable" materials within your cars interior. 


Nanoskin 85-639 8.5" Whitewall/Sidwall Tire Brush, White Nylon
Winning balance between gentle and aggressive.
I use on anything from carpeting, cloth seating, leather, vinyl, etc.
Handle allows for increased leverage; especially in tighter areas.
Use the handle in traditional manner or switch around for another ergonomic feel.
A must have as part of my arsenal.
How to Clean Car Interior Tips:
The finer details of cleaning car interior





Casabella Smart Scrub Bottle Brush with Replaceable Head, Lime
This is the exact bottle brush I use in my professional world. 

More aggressive or stiff than the OXO brush below. 

Since I use this on hard plastics and fabric within cars, I prefer the much stiffer version.
The softer OXO bottle brush below is not aggressive enough for many of the ways I like to use these bottle brushes when I am using any cleaner or on any surface. (no; I do not use these on car paint, clear instrument panels, or wood veneer within the car, but those are about the only surfaces/materials I don't use them on)
Amazing how many hard to reach areas these bottle brushes are ideal for: in-between car seats and center console, trunk carpeting to break loose dry debris, inside cup holders and side compartments, etc.
Ideal for tighter areas.
Winning combination for cleaning leather if you are wanting to be overly cautious.
Can be used on all types of materials within your cars interior.


Chemical Guys ACC_S02 Dual Purpose Toothbrush Style Detailing Brush
A detail brush I also consider a must have.
Ideal for extra tight areas of cleaning.
Stiff bristles for deep cleaning when the situation presents itself.
Dual heads for more versatility.


Wheel Woolies - Boars Hair A5D Detail Brush: 1" Diameter
I love this detail/dusting brush due to its durable, yet natural fibers.
I can get this wet and use in areas where direct application of interior cleaner is needed along with the use of a detail brush like this. (Think cup holders and cubby holes/compartments)
Lasts years of use whether this be wet or dry.


Boars Hair Ultra Soft Car Detail Brushes - Set of 3 - Perfect for Washing Emblems Wheels Interior Upholstery Air Vents, NO METAL Brush Parts
This detail brush set can be your only choice in detail brushes since there are 3 sizes.
I will reserve one of them for using wet, and the other two for using dry.
If using any of these wet, it will break down over time as compared to the black detail brush just above that can withstand getting wet over and over again.
Made from boars hair which is very gentle.
Remember like every other area of detailing; how to clean car interior is all about getting the details. These brushes will help you do just that.

How To Clean Car Interior:

The exact steps of success
Now that you have armed yourself with your chosen cleaners and tools, it is time to lay out the basic steps of how to clean car interior. The steps will be the same procedure regardless of material being cleaned:
Pre-vacuum all areas. (The idea with vacuuming first is to remove all dry, loose dirt and debris before you introduce a liquid cleaner into the equation.)
Break your car interior into sections of attention. (Looking at the entire interior of your car will overwhelm most people)
I like to start with whichever area of your interior that is either the dirtiest, or the area you are most concerned with.
It is also helpful to accept the fact that you will not force yourself to clean the entire interior of your car in a single go. (Break into bite size pieces so as to not overwhelm you once again)
Once you have a chosen area of focus, break this into sections and decide most appropriate tool for the job as selected from above tools.
Spray area to be cleaned (after you have vacuumed. This includes leather seating to remove dirt from seams) with a few pumps of the cleaner.
Scrub area to break up dirt.
Mop up area with a micro-fiber cloth. ( I prefer micro fiber cloths for any and all detail chores. They are more absorbent, and the tight weave is far superior to any traditional cloth you may have. But don't let this stop you as any cloth is better than not cleaning your cars interior)
Check results and repeat application/process as many times as needed for desired results. (remember that light, repeated applications is always better than heavy applications)
Now stand back and bask in the felling of accomplishment of your wonderful results. (You should have a very big smile on your face by this point)
I hope I have given you the confidence of how to clean car interior as well as empowered you to take action and renew the love affair you had at the beginning of your relationship.
Sincerely,


---