How to Clean Car Seats:

Professional tips you can do at home
Learning how to clean car seats will deliver a mind blowing amount of information when doing any Internet search.
Most of this information will be generic at best, or bad information at worst.
Welcome to the era of information overload where you as a beginner are at the mercy of the endless so-called experts that have saturated this area of car care.
Anyone with a car will want to learn how to clean your car seats sooner than you probably want to. Very few areas of your car take as much use and abuse at the car seats.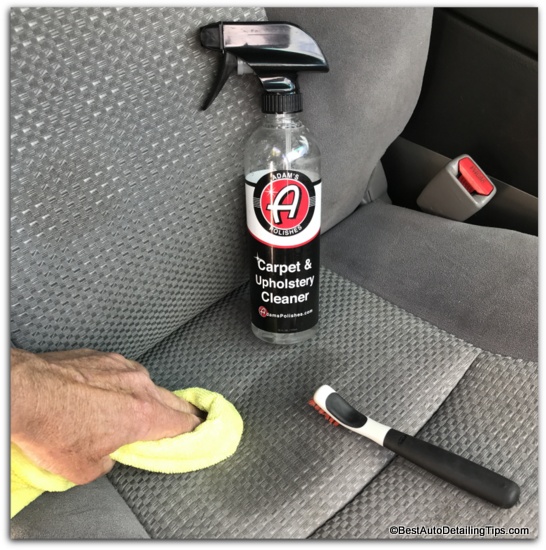 Cleaning Car Seats:

Keeping it simple
When it comes to any type of work, I always recommend the easiest approach as possible at the beginning.
The goal will be to produce some level of desired results, in the easiest way possible so you are not frustrated and discouraged right from the start.
Work is called "work" for a reason: it is gonna be some work!
If you make work harder than it has to be, you will be less willing to ever perform this work in the future.  We want simple and we want easy...at least as easy as possible!

How to Clean Car Seats:

Steps to success
The following steps represent the exact steps I use as a professional whether I am cleaning car seats, or detailing the entire interior of car.
Pre-vacuum
Spray area with car upholstery shampoo
Scrub
Mop-up dirt

Repeat as needed

Pre-vacuuming: It is always best to remove as much of the dry dirt before you introduce any type of liquid car upholstery shampoo into the equation. You will be very surprised at the results you can produce when cleaning your car seats simply by taking a vacuum and scrub brush to the area first.
Use upholstery brush to scrub the car seating as vigorously as possible to break free trapped dirt and debris. You can do this independent of using the vacuum, or while holding the vacuum nozzle to the area you are scrubbing.
Apply Car Upholstery Shampoo: Once you have scrubbed and vacuumed any area you are attempting to clean, it is time to spray area with chosen car upholstery shampoo. Most people will spray too much product, rather than not enough.
Resist the temptation to over-saturate the area with too much upholstery cleaner. This is not the time to adopt the "more is better" approach. How to clean car seats often includes a lesson in restraint for most beginners.
As you clean your car seats, you will begin to determine the "right amount" of upholstery shampoo that delivers desired results without over-saturation.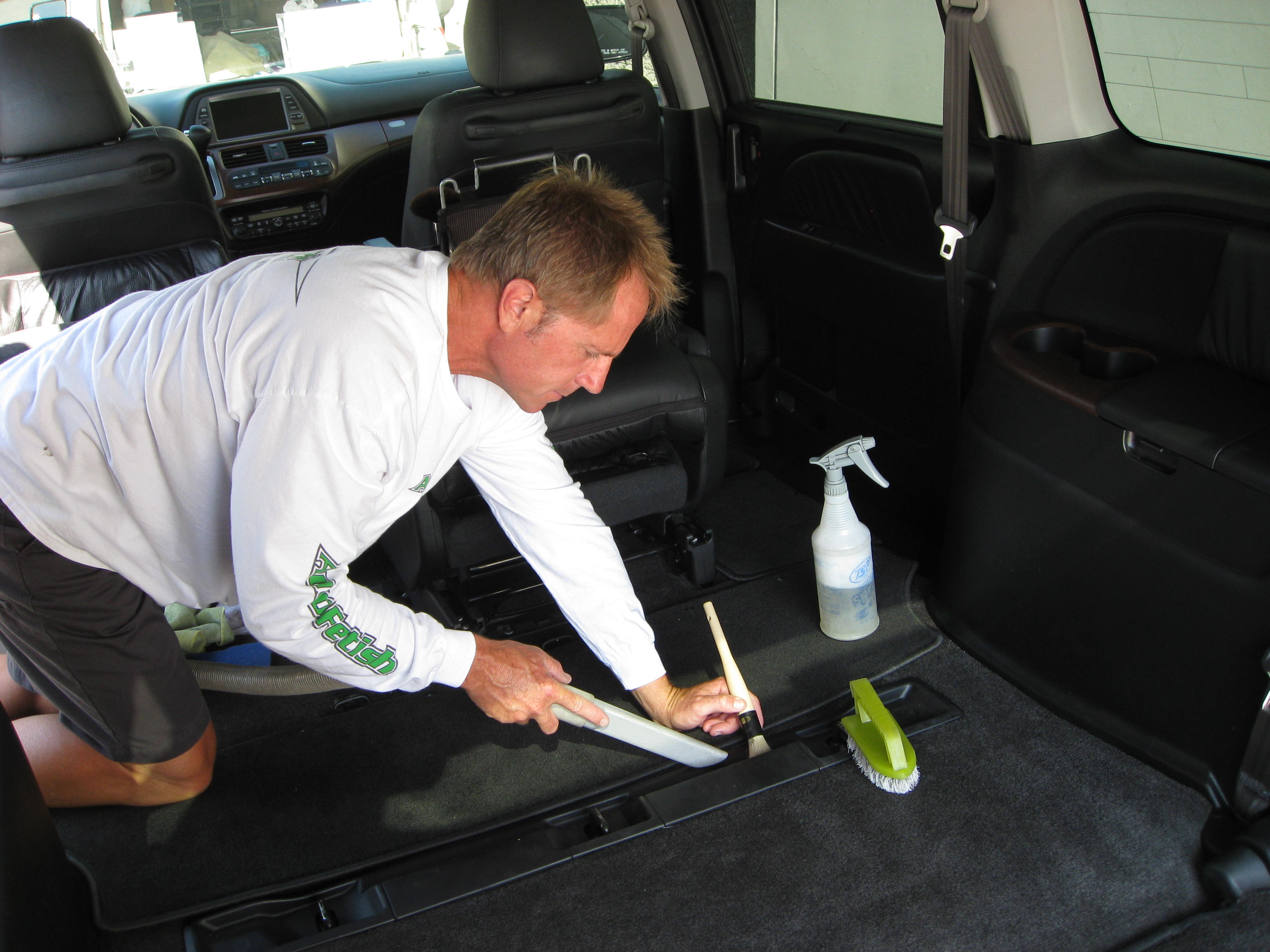 Scrub: Use your choice in a scrub brush to now scrub the area you have applied upholstery shampoo. If you are a beginner, you will likely scrub overly cautious t the beginning until you develop a bit of confidence in the "how to clean car seats" process, and in yourself.
Just know that as a rule, your car upholstery is more durable than people think. But as a cautionary rule, you can start easy to "test the waters" an adjust how vigorously you scrub, along with how much car upholstery cleaner you use during each application of the car seat cleaning process.

Mop-up Dirt: After you have applied upholstery shampoo and scrubbed vigorously, it is time to mop up the dirt. Any cloth will do, but my rule is to use a micro-fiber cloth.
Micro-fiber cloths are extremely absorbent at soaking up the dirty cleaning solution. Micro-fiber cloths also do not leave the annoying lint most of us are associate with when using traditional cloth towels when cleaning.
Repeat as Necessary: Once again it is best to accept that your car seats will typically require repeat applications of these steps to realize desired results.
If you accept this from the start, you will be a little less inclined to over-saturate your car upholstery with shampoo. Light applications of shampoo, followed by vigorous scrubbing, and then mopping up with micro-fiber will prove to be the smarter approach to any shampooing or cleaning within your car's interior.
How to Clean Car Seats:

Different cars, different materials
Different cars also means different materials used to construct car upholstery.
This very point will prevent many people from attempting to clean their car seats themselves at home due to fear of not knowing what cleaners can be used on what materials.

The good news is that you do not have to overthink the cleaning process, or your choice in a car upholstery shampoo.
Virtually every car upholstery shampoo will be safe on any material of your car seating:
The industry will make products that are labeled for specific types of materials which adds additional confusion to any beginner learning how to clean car seats at home, themselves.
This is simply a strategy that allows car care companies to sell more and more products. The more specialized companies make products, the more these companies can exploit your ignorance and lack of experience to sell you more stuff.
This is also a subject to car upholstery cleaning that the endless so-called experts will exploit at your expense.
Just know that virtually any all-purpose cleaner, or any dedicated car upholstery shampoo will not only prove effective, but prove safe for ALL materials used in making car seats.
Even if your car seats are made of car leather, you can still use a traditional car upholstery shampoo to clean with. If you do have leather car upholstery, you can follow the link where I talk specifically about cleaning leather car seats.
How to Clean Car Seats:

Maintaining Realistic Expectations
If you were a paying customer of mine, I would be having this same talk with you in person as I am here on this page.

Many people have unrealistic expectations when it comes to finding the best methods for cleaning car seats. People like yourself will search endlessly to find the best car upholstery shampoo that will magically clean away years of accumulated dirt.
I ask my customers to compare their car upholstery to the carpeting in their house.
I often see car upholstery that has been so neglected that if this was in their house, they would simply replace it. Understanding that no professional or upholstery cleaner can get this level of dirt to come clean.
Just like car owners that go in search of the best car wax or car polish that will magically erase years of neglect and abuse, there is no magical car upholstery cleaner that can clean away years of accumulated dirt that should have been cleaned away years ago.
This is not meant to discourage you, but help you maintain realistic expectations. It always frustrates me as a professional when people leave reviews on products based on their very unrealistic expectations.
You cannot expect a product to compensate for a complete lack of care and maintenance. Your car upholstery needs regular attention just as everything else in life requires.
Regular maintenance is always far easier than trying to salvage car upholstery that has been neglected for years and years.
Best Car Upholstery Cleaners
I am not a fan of the term "best". Finding the best of anything will be the fine balancing act of features and benefits based on you as a person, along with your needs and wants in the moment.

I will lay out my top picks in car upholstery shampoos below, along with the reasons I have chosen a particular product.

Adam's Carpet and Upholstery Cleaner



Adam's Carpet Drill Brush Combo - A Cleaning Tool Attachment For Scrubbing/Cleaning Carpet, Upholstery, Leather Seats & Chairs, Floor Mats, Trunk, Furniture, Interior Boat, RV & Car Accessories
I offer this choice for a variety of reasons.
PROS:

Effective ready-to-use car upholstery cleaner
Comes with a drill attachment that makes your efforts that much more effective in breaking down dirt (drill motor needed separately)

Ready-to-use means instant gratification (when compared to a concentrate cleaner you must mix before using)
Comes with ready-to-use cleaning solution in a ready-to-use sprayer
CONS:
Limited amount of car upholstery cleaner (not as economical as a concentrate if making a direct comparison)
If you have an excessively dirty car or car seats, then you might find yourself running out of cleaner before you run out of dirt to clean from your car seats or car upholstery
Chemical Guy's Fabric and Upholstery Cleaner


Chemical Guys HOL315 Foaming Citrus Fabric Clean Carpet and Upholstery Cleaning Kit with Drill Brush and Spray Bottle (3 Items)
I chose this concentrate for much of the same reasons as the product above.
PROS:

Highly effective car upholstery cleaner
Safe for all materials: fabric, cloth, velour, "sport fabric", leather, vinyl

Concentrate allows you to be economical
Concentrate allows you to custom blend dilution strength to fit specific cleaning needs
Comes with its own spray bottle for mixing
Comes with handy drill attachment brush to maximize your cleaning efforts
Perfect for excessively dirty cars where you don't want to worry about running short on a ready-to-use car upholstery cleaner

CONS:
Mixing required when compared to a ready-to-use car upholstery cleaner
Micro-Fiber Cleaning Cloths


Chemical Guys MIC_506_12 Professional Grade Premium Microfiber Towels, Gold (16 Inch x 16 Inch) (Pack of 12)
My "go-to" cleaning cloths for all things car interior related
Super absorbent
No lint!!
Super economical
There are endless varieties of micro-fiber cloths. While you do not have to overthink these cloths, you do need to know that not all micro-fiber cloths are created equal.
These micro-fibers from Kirkland represent the winning balance of performance and cost. I don't just use these cloths to mop up the dirt when cleaning car seats, but use them for much of the basic detailing needs of both interior and exterior detailing.
Car Upholstery Scrub Brush


Upholstery Cleaner Scrub Brush Set Cleaning Brush and Horsehair Detailing Brush for Car Interior, Seats, Boat, Couch, Sofa and Carpet
The perfect "duo" for cleaning car seats
A brush set labeled for boats, but ideal for cleaning car seats
Natural fiber brush for more delicate car seating
Synthetic brush for more aggressive scrubbing
Darren's Tip: I discovered these brushes years ago and have been recommending them every since due to the versatility this brush set offers.
One brush will allow you to clean car seats with extra care with a brush made with softer natural fibers, while the other brush made with synthetic fibers allows for more aggressive cleaning.
How to clean car seats is a great place to start when it comes to detailing your car, but will also develop confidence so you can take on the other cleaning and detailing of your cars interior.
As a side note: the natural brush will shed fibers due to the tendency of ANY natural fiber brush to shed fibers.
Cleaning Car Seats Summary

My goal has been to give you a step-by-step guide to cleaning your car seats in a way that is simple and effective.
This is of course based on the understanding that cleaning anything in general requires work. This simply means I cannot take all the work out of the moment for you, but I can show you simpler ways to produce desired results.
I hope you feel prepared and confident to restore some of that love back into your car's upholstery by cleaning away the chunks of "hate".
Sincerely,
Darren Priest