How to Clean Car Windows

You can have good or you can have great
Any Internet search on how to clean car windows will deliver up a mind blowing amount of results. I could reduce the countless search results into two categories:
People with no experience repeating what they have learned from other people with no experience
Companies who make a car window cleaner and want to sell you their car window cleaner

As a professional detailer, there are very few things I have struggled with more than learning how to clean car windows to perfection.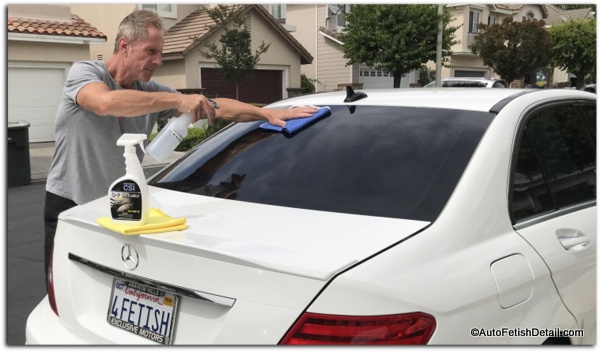 Most detailers simply give up the pursuit of perfection and accept "good enough". Car windows that are basically clean, but still have smudges, streaks, and haze.
"Good from far, but far from good!"

The good news is that a few years ago I stumble upon a product and a technique of cleaning car windows that blew my mind. I wish I could say that I developed it, but I can't.
I was simply shown the exact product and the exact technique that can produce the cleanest, smudge free, haze free windows I have ever seen.
How to Clean Car Windows:

When good enough, isn't
Since I accept that we are all naturally lazy creatures, most of us are looking for ways to get what we want with the least amount of effort.

I too am human and I want what I want with little to no effort. But when it comes to cleaning car windows, you must accept that a certain amount of effort will always be required.
You must also be willing to accept certain realities that I will put under the heading of "maintaining realistic expectations". But I will cover that in more detail further down the page.

Best Window Cleaner:

Super-simple and less-simple
We all want the "best".
I know I want the best. In this case it would be the best car window cleaner. I have yet to meet a person looking for the worst car window cleaner.
The problem is that most people simply go in search of the best of something, but don't know enough to ask the right questions in order to find what the "best" really means to them as a person.
What makes the "best" for one person, may not be what makes the best for another person:
The cheapest to buy
The easiest to use (regardless of results it can or cannot produce)
The simplest to use (ready-to-use vs. a concentrate)
To circle back around to us being naturally lazy creatures, I accept that some of you reading this are actually okay with marginal results and are looking for the best window cleaner that delivers pretty good results, but do so with the least amount of effort.

Best Window Cleaner:

Super simple


Meguiar's G8224 Perfect Clarity Glass Cleaner, 24 Fluid Ounces
A very "good" car window cleaner
For all those looking to keep car window cleaning basic and super-simple
Probably the perfect window cleaner for the majority of people (assuming you are not looking for perfection)

Darren's Note: If you want a really good, ready-to-use window cleaner because you want good results with the least amount of effort (one product, no mixing from a concentrate involved), then this product is a sure thing.
Ready-to-use, and perfectly sized for cleaning the windows in your car. For both interior and exterior use. Safe for use on tinted windows despite any incorrect information you have read.


Best Window Cleaner:

Less-simple
This recommendation is not so much about a less-simple car window cleaner, but this kit has a special tool for effective cleaning of the front windshield.
Due to the slant and the tight forward facing crevice of the windshield and dashboard, cleaning the windshield is especially difficult. And if you have difficulty with strength and mobility due to health issues, cleaning the windshield can be an almost impossible proposition for a person.



Invisible Glass 99031 Reach and Clean Tool Combo Kit Window Wand Glass Cleaning Tool for Windshields, Invisible Glass Cleaner for Auto Glass, Clean and Reach Tool for Hard-to-Reach Places
This is an aerosol window cleaner (some people love this, some don't)
This comes with an incredibly handy and effective tool for cleaning the windshield
Even if you end up not liking the window cleaner itself, this tool is worth the money
Darren's Note: I have seen this Invisible Glass window tool for so many years but always considered it a gimmick. I figure it would be poorly mad and likely break sooner versus later.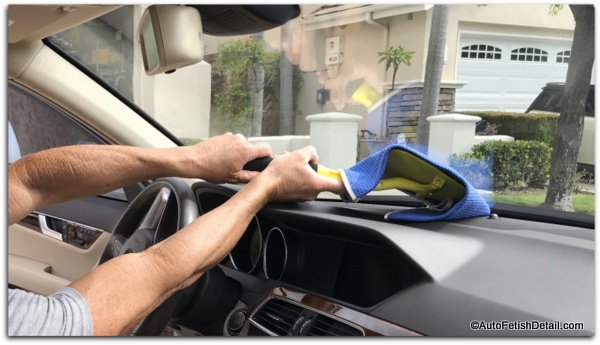 I was pleasantly surprised at how sturdy it is made and how effectively you can now clean the tight areas of the windshield as well as allow you the additional reach that the tool gives you.
It is one of those moments where you have to experience it firsthand to fully appreciate.


Car Window Cleaning Cloths

One of the best tricks to streak free and smudge free windows has nothing to do with the window cleaner, but the type of cloth you use to clean your car windows.
In the event you perhaps have been living under a rock for the past 10 years, this incredible textile called micro-fiber has revolutionized just about every industry.
Unless you have experienced the benefits of micro-fiber sloths, you simply cannot fully appreciate how superior these are to any other type of cloth material.



MEGUIAR'S X190300 Perfect Clarity Glass Towels, Pack of 3
Half the battle of perfectly clean car windows is using the right cloth
Ideal for cleaning windows
Perfect color as you can visual identify these as your dedicated window cleaning cloths
Not my first choice, but definitely a great choice
Darren's Note: these cloths are superior to any cloth you are likely using to clean your car windows. While these are not the cloths I recommend or use professionally as my first choice, these will still prove superior over the window cleaning cloths you are likely using.


How to Clean Car Windows:

Darren's secret trick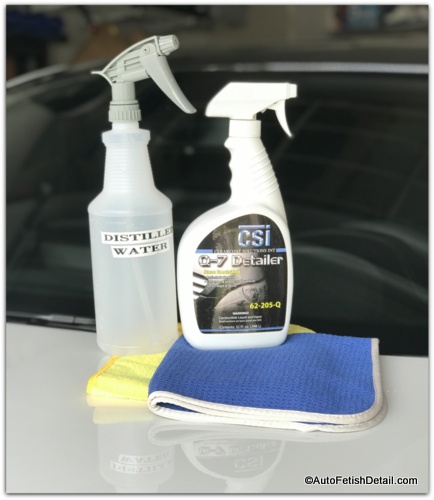 This picture may be confusing as I have placed the Q-7 Detailer on the waffle weave cloth. The trick is to use the Q-7 Detailer with a basic micro-fiber cloth, and the distilled water with the waffle weave cloth.
If you are wired like myself, nothing but perfection will be acceptable when it comes to streak free, smudge free, clean windows.
Learning how to clean car windows in this moment will be based on using the right products, the right tools, and the right sequence of process.
But despite how complicated that might strike you as, the end results are truly unbelievable.
Especially if you have allowed months or years of build-up to accumulate on your car windows and you are dealing with excessive amounts of haze, finger prints, and other unwanted affects on your car windows.
Darren's Car Window Cleaning Steps:
Use Q-7 Detailer and basic micro-fiber cloth:
Shake the Q-7 Detailer prior to use. Spray each section of window you want to clean. Wipe aggressively and thoroughly to remove all smudges, haze, and any other type of dirt on each window.
I typically fold my micro-fiber cloths (You can use the basic Kirkland brand micro-fiber cloths listed below) twice to create a padded working cloth that is just the right size. This also allows me to have two sides to clean, buff, and wipe with. I reserve one side for the initial wiping of liquids, then flip the cloth over to remove or buff the surface as needed.
Use the Q-7 Detailer like you would any other glass cleaner, which means you are scrubbing and wiping very thoroughly each window to clean and prepare window for next step.
Once you have thoroughly cleaned a window with the one side of the micro-fiber cloth and the Q-7 Detailer, flip micro-fiber cloth over and remove any residue left behind from the Q-7 Detailer (this is not the final step, so you are not going for perfection at this point. You simply want to remove the bulk of the haze left behind before you move onto the next step)

Use distilled water in a sprayer with a waffle weave micro-fiber cloth:
You don't have to use distilled water, but I recommend it due to its purity (I buy basic distilled water from my local market). You will now be repeating the same steps you went through with the Q-7 Detailer and "cleaning" each window, but doing it now with distilled water and a waffle weave micro-fiber cloth.
Spray each window with distilled water, use your folded waffle weave cloth to "clean" entire window with the goal to remove any remaining haze from the Q-7 Detailer.
Once that is complete, flip cloth over to dry side and buff window to perfection.


CSI Q-7 Detailer (Quart) - Body Shop Safe Quick Detailer Ideal for use Professionally or at Home
My "go-to" window cleaner
A dedicated spray detailer for exterior/interior of your car, but serves as the best car window cleaner when used by following my window cleaning tips
One of the most versatile products I use professionally with the ability to use this in so many ways, on so many materials
Darren's Note: Use this along with a micro-fiber cloth as your actual window cleaner to not just clean away dirt, grime, haze, and smudges, but prepares the glass by coating it just prior to your finish product of using distilled water.
You need to make sure you are using this product to literally scrub your windows clean and fully prepare them by using this product to remove all haze, fingers prints, smudges, etc.
Basic Micro-Fiber Cloths


Kirkland Signature Ultra High Pile Premium Microfiber Towels, 36 Count (Pack of 1), Yellow - 713160
My "go-to" micro-fiber cloth for 80% of my detailing tasks
Use with the Q-7 Detailer as your first step to cleaning car windows
I fold twice to create the perfect working cloth
Darren's Tip: As a rule, I fold any cloth I am using twice to create the perfect size and the perfect thickness (for this reason virtually all my detail cloths will range from 12x12 inches to 16x24 inches in size. These Kirkland micro-fibers are 16x16 inches in size)
I reserve one side as my wet side (This is the side I wipe any liquid product I am using) for the initial wiping/cleaning. I reserve the other side as my dry side to wipe away and residue of the product I am using.
When I minor-fiber I am using becomes too saturated with a liquid, I simply grab a fresh micro-fiber cloth.

Waffle Weave Window Cleaning Cloth


VIVOTE Car Drying Towels Microfiber Waffle Weave Towels Lint Free Car Cleaning Cloth Scratch-Free 3 Pack 16 x 22 Inch Black
My preferred window cleaning cloth
Use this with distilled water as the final step
Ideally suited for cleaning windows
Darren's Tips: I prefer a waffle weave micro-fiber cloth when doing windows. Some windows are very difficult to slide a cloth of any kind over, and some of the traditional window cleaning cloths will "roll-up" on you as you attempt to clan your car windows.
These are thick enough to help prevent that and thick enough to not become overly saturated with liquid as you are cleaning the windows. Use these with the distilled water by folding the cloth in half, two times for a perfect tool to fit most hands.


How to Clean Car Windows Summary
My secret window cleaning technique is a method of deep cleaning your car windows
Once you ave cleaned your windows to perfection, you can maintain them moving forward by using distilled water and a waffle weave cloth
If you do not keep up with the cleaning of your windows regularly after the initial deep cleaning, you will need to use both the Q-7 Detailer and distilled water whenever you decide it is time to deep clean your car windows again
If you have allowed years of haze and grime to accumulate on your car windows and are now attempting to clean years of grime off for the first time, you may have to accept that your windows may require multiple cleanings in order to achieve true perfection (but maintaining them moving forward will now be super simple)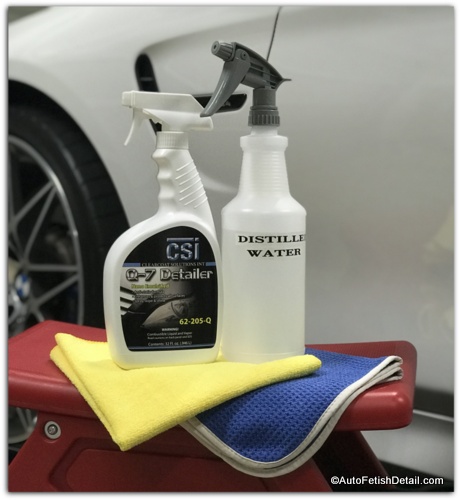 If you have made it this far down my how to clean car windows page you must be either a very dedicated car owner, or a car owner very frustrated with whatever window cleaner that is delivering poor results for you.
I know my method requires more work at the beginning, but once you clean your car windows to perfection, maintaining them is far simpler as you can now simply use distilled water and the waffle weave cloth moving forward until you decide your windows are dirty enough to start over.
I wish you much success in your window cleaning efforts!
Sincerely,
Darren Priest