How to Detail a Jeep

Expert tips to make it easier, not harder!

Detailing a Jeep is difficult under the best of circumstances even for a professional like myself!
While many Jeep owners consider it a badge of honor to drive around in a Jeep covered in mud from their last off road excursion, there are many Jeep owners who still enjoy a clean Jeep.
But How to detail a Jeep does present unique challenges to even seasoned veterans like myself. Whether you are an off-road crusader or an asphalt poseur, learning a few critical techniques of detailing combined with the right products is your ticket to success of enjoying both sides of the Jeep culture.
The Unique Challenges of Detailing a Jeep
Jeeps represent unique challenges when it comes to washing, waxing, and detailing in general. Because Jeeps come in endless configurations, the challenges presented will ultimately be on a case by case basis.

Black trim pieces.

Body fasteners, hinges, and latches.

Textured hard and soft tops.

After-market accessories.

I could literally write a book on the endless tricks of detailing a jeep. The constraints of this page make that an impossible task.
With that said, I am not going to leave you hanging without offering what I consider the basic essentials that will educate you to products available, along with professional techniques that will  help you get far better results when it comes to the cosmetics of your Jeep than you are currently getting.
How to Detail a Jeep:

Learning the essentials
Washing: The obvious place to start is with washing. If you and your Jeep play it safe and never venture off-road, then this part of the equation does not need to be over thought.
But if you like getting down and dirty with your Jeep and prefer the "Do-it-Yourself" route, then an electric pressure washer is a must have.

Westinghouse electric Pressure Washer


Westinghouse ePX3000 Electric Pressure Washer 2030 Max PSI 1.76 Max gal/min with Anti-Tipping Technology, Soap Tank and 4-Nozzle Set
Perfect for blasting dirt and mud brought home from your last off-roading excursion.
Also ideal for cleaning wheels, tires, engines, when used along with appropriate cleaning products.
Number one selling electric pressure washer; plenty of reviews to help you make your educated buying decision.
Darren's Tips: Unless you are completely fanatical or find yourself with excess amounts of time on your hands, under normal conditions I prefer to find a local quality car wash that allows me to outsource the drudgery of car washing.
This allows me to maximize my efforts into jobs of detailing that are more critical, and personally more rewarding. The fact is that car washing is not rocket science, but until the superficial dirt is removed, then no other parts of the detailing process can take place.
The difference with Jeep owners is that many of them actually do take their Jeeps off-road and find themselves dealing with excessive amounts of dirt and mud that many car washes do not want to deal with....and this is where a quality and powerful pressure washer will help!
Darren's Tricks: I have a few tricks I use when it comes to excessively dirty cars/trucks/Jeeps.
I am going to use a separate, dedicated cleaner to pre-treat all areas first before blasting with the pressure washer.
I know many people want to simplify the process by using the detergent container and inject some form of detergent at the same time as you are blasting with the pressure washer, but I find this is really a short cut that does not really make a difference.

---
All-purpose Cleaning Concentrate




Simple Green 73434010 14010 Industrial Cleaner & Degreaser, Concentrated, Lemon, 1 gal Bottle
You don't have to over-think this part of the cleaning process. If you actually off-road in your Jeep, you will be dealing with mud and dirt versus grease and oil.

Dilute down to desired strength and fill your garden sprayer to pre-treat all dirty and muddy areas after you have blown off the initial dirt chunks with your electric pressure washer.
---
Garden Sprayer




Smith 190285 1-Gallon Bleach and Chemical Sprayer for Lawns and Gardens or Cleaning Decks, Siding, and Concrete
Using a standard trigger sprayer will be the obvious choice, but will not be the more efficient choice.

This garden sprayer can be filled with your favorite cleaner, pump to pressurize, and then spray all areas to pre-treat before using your electric pressure washer.
---
Tire and Wheel Brushes


No amount of cleaner and water pressure is going to clean everything off your Jeep without some form of manual agitation.
This tire/wheel brush set is what I use professionally to use along with the Simple Green to agitate the dirty and mud for more professional results.
The winning combination between strong enough, while still remaining safe for wheels, tires, under-carriage, suspension, etc.
Not recommended for use directly on paint.
---
Waxing Your Jeep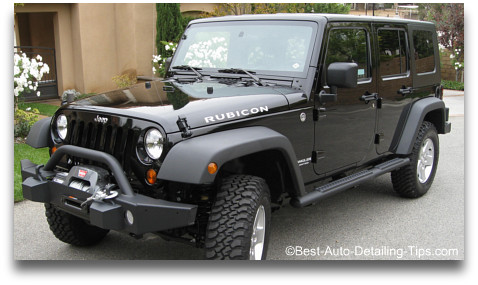 Waxing your Jeep for many will be the "fun" part...at least that is the foundation to many fantasies. But any Jeep owner can easily recognize the many mine-fields that waxing a Jeep can represent.
And any Jeep owner that has waxed their Jeep before can likely attest to the ripple effect of hasty wax applications with traditional wax products as time passes with unsightly stained black trim, or excess wax build-up that has now dried chalky white in every crevice, seam, or crack!
Darren's Tips: Modern day wax formulations now allow any car or Jeep owner the ability to get professional results by choosing the "right" type of wax from what I call hybrid wax blends that are formulated using both natural and synthetic ingredients for that winning combination of benefits and an excellent user experience.
See my top car wax picks at my best auto waxes page for what I consider the best in performance along with the best in user experience.
Stained Black Trim on your Jeep

Look at most Jeeps with any level of scrutiny and you will likely see the signs of hasty wax applications by black trim that has been stained by traditional car waxes.
If you are dealing with the same problem do not be discouraged, as there is a permanent solution to this common problem.
---
Restoring Black Trim on Jeep



Solution Finish - Black Plastic & Vinyl Restorer - Use for Car and Truck Detailing - 12 oz.
One of my top picks in a black trim restoration product.
This is not your glorified "Armor All" dressing that will wash off after the first washing.
Will last anywhere from 6-12 months based on the plastic trim. (not all plastic trim is created equal as there are many variations with mass produced plastic parts used on all cars)
Easy process for amazing results.
Window Cleaning on your Jeep

Windows remains a source of frustration for any car owner and professional detailer alike. Since most of you as Jeep owners are simply looking to take care of your own Jeep and not become a professional detailer, I am going to let you in on a couple  little secrets into my professional world:
The actual technique I use to get streak free windows.
The actual product I recommend if you are a DIYer.

---
Window Cleaner




Meguiar's G8224 Perfect Clarity Glass Cleaner - 24 oz.
One of my dirty little secrets as a professional.
Using a retail product for professional use; who would know?
Get professional results from a retail product.
Darren's Secret: If you want to see my secret tip for perfectly clean and streak free windows go to my clean car windows page.

---
Waffle weave Window cleaning Cloths




[No Streak Freak] Microfiber Window and Mirror Waffle Towel (16"x16") White - 3 Pack
My top rated window cleaning cloths.
You could spend far more on other cloths labeled as special glass cleaning cloths, but I haven't found the additional cost worth it.
Lint free; streak free.
I don't even wash mine with special cleaners, special water, or special drying temps. I simply wash mine along with all my other micro-fiber detailing cloths in hot water, then dry them with medium to high heat. (no fabric softeners in washer or dryer, and I only use traditional laundry detergents)

Darren's Tips: Windows represent a topic of frustration any professional detailer can relate to. So as a car or Jeep owner, you have likely experienced the same frustration. So follow what I do professionally for professional grade results:
Use the blue waffle weave cloths above.

Fold twice so you have essentially a "square".
One side is your damp side, the other side becomes your dry side.

Spray window with window cleaner. ( as a rule, I find most beginners use too much of anything. More is not usually the winning solution for any detailing tasks. If you have gone around half your car doing the windows, and your dry side is now leaving wetness when you dry and buff the window, you are using too much window cleaner) and wipe down window paying close attention to the corners of each window. Wipe until the window looks like it is 90% "clean" and all you have left is a slight residue that you will then flip the cloth over and buff off. (very similar to waxing your car: apply wax, let it haze up, then buff off)

Darren's Tip: You want your car windows to be essentially "clean" to about 80-90% before you even touch them with window cleaner. To do this, when you are ready to do the windows as your last step, take a clean micro-fiber cloth that is damp. Wet; but not dripping what so ever. Just damp.
Proceed to simply wipe the inside/outside of each window to remove any over-spray or unwanted dirt that may still be left on windows. Once you have done this, then proceed to follow the window cleaning steps just above.

Pay "How to Detail a Jeep" Forward

If you have found the information on this page useful in any way, pay it forward by posting the link to your favorite forum, blog, or social media site and help me pay it forward!
Darren Priest

---