How to Dry Your Car

The one secret you need to follow
How to dry your car is every bit as important as how you wash your car! Most people become overly fixated on the best car washing methods, but completely fail when it comes to drying a car!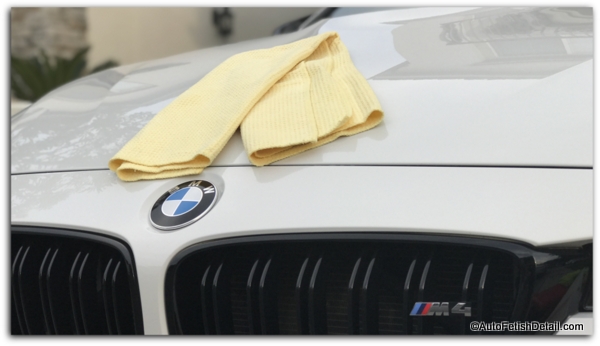 If you think your bad car washing methods are the cause of all the endless swirl marks and spider-webbing effect on your car, think again.
It is time you become a more informed car owner and consumer.
Unless of course you want to continue to do needless damage to your car as you dry your car with old-school techniques you were likely taught by the last person with zero experience.


How To Dry Your Car

The magic "tool"
Believe it or not, that silly bath towel you have been using to dry your car has been not only damaging your car little by little, but likely prove to be a very frustrating process that delivers frustrating results.
Unless of course you don't even know enough to be frustrated.
But chances are you are here because you are tired of the poor experience, or the frustration you have been experiencing in drying your car. Or maybe over the years have you have finally come to the conclusion that your 100% cotton bath towel might worked to dry your body off, but proves severely inadequate when using to dry your car.

Meguiar's Water Magnet


Meguiar's X2000 Water Magnet Microfiber Drying Towel, 1 Pack
Superior drying experience and results
Super soft, super absorbent
No more lint!
No more micro-scratching caused by bath towels
Darren's Tips: I have been using this micro-fiber drying cloth for years and absolutely love it! If you want to cut to the chase and not over-think things you can stop here and get this one.
Just the right size to work with without being too big like some of the other car drying "sheets". Sometimes more is more in a bad way and the over-sized drying sheets can become too difficult to manage when drying your car.
But if you want to see my professional "tools" and see how to dry your car with an even better user experience, then keep reading.


How to Dry Your Car Like A Pro
Waffle weave micro-fiber cloth! Now you know better and now you know how pros like myself dry cars without scratching and doing so quicker and more efficiently.
Sure you can use other micro-fiber cloths and get great results, but the car drying cloths on this page promise to deliver superior results over any other type of cloth.
What is Difference Between Waffle Weave and Micro Fiber
Micro fiber cloths have to do with both the type of fibers used as well as the process of making them. Waffle weave cloths are still made using the same fibers and process, but are simply manufactured into a different weave or texture.
Any micro fiber cloth will prove much better at drying your car when compared to a bath towel used to dry your car, but waffle weave drying towels are the top choice of professionals on how to dry your car.
Are Natural Chamois Cloths Good For Drying Your Car
Yes. But there is much better!
And using a waffle weave car drying cloth is the best way to go. Not only are waffle weave micro-fiber drying towels more absorbent than natural chamois', but deliver a much better user experience.
Natural chamois is very "slimy" when it is wet and dries almost rock hard. While natural chamois delivers a safer car drying results when compared to a bath towel, natural chamois still remains inferior to a waffle weave car drying cloth.
I Heard ShamWow Was the Best way to Dry Your Car

No, no, and NO!
ShamWow's are called Sham for a reason...these synthetic chamois cloths are a joke! (of course this is only my professional opinion)
Sure you can dry your car with a ShamWow. But you can also continue to get poor results and a poor user experience with your current "system" you are using to dry your car.
But you are here to learn professional how to dry your car tips, not tips that hacks or wannabe detailers use.
And quit listening to that know-it-all neighbor who thinks he has a clue. Chances are he is both inexperienced and repeating bad information.
Why Is Waffle Weave the Best Cloth to Dry a Car

Unlike the traditional super soft and safe micro-fiber cloths used to remove car polish or car wax, waffle weave drying cloths are instantly absorbent. Most cloths need to be wet, to be instantly absorbent. Due to the unique texture, waffle weave drying cloths prove superior over any other type of cloth used to dry a car with.
Zwipes Waffle Weave Drying Cloth



Zwipes Auto 879-2 Professional Microfiber Waffle Drying Towel, 25 in. x 36 in, 2-Pack
My professional choice in car drying cloths
I prefer colored waffle weave drying cloths as they do not show any trace dirt like white or other lighter colored car drying cloths
These are bigger than the Water Magnet above and allow you to dry an average size car without having to wring out during the car drying process
Darren's Tips: I prefer these cloths for specific reasons as noted in the bullet points. While you will not know what the perfect size is for you and your method of drying your car, but these are bigger and allow for the complete drying of your car without having to wring them out.
Some car drying cloths are so big that they become very difficult to manage as they become heavier and heavier with water. Like everything else in life, there are always trade-offs.
I can promise you that regardless of which of the car drying towels you choose from this page, they will deliver better results and a better user experience than your current car drying method.
How to Dry Your Car

Taking it to the next level
I am going to share with you one of my professional tips. A strategy many professional detailers and car enthusiasts do to maximize their efforts. If you are going to learn how to dry your car like a pro, why not learn how to wax your car the same time you dry your car.
My "go-to" car wax for over 15 years
Water base formulation allows for use in direct sunlight
Non-staining formulation means it is safe for any material on your car (won't stain black trim)
Darren's Tips: Once you have completed the final rinse of your car washing efforts, spritz this spray wax onto each panel before you dry with your chosen drying cloth.
Based on your working conditions (direct sunlight on hot paint, or cool, shaded paint) will determine how big of an area you can spray in order to manage the wax and the water as you dry your car.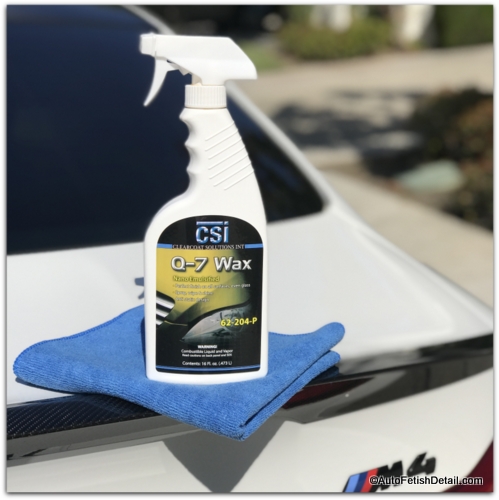 If you are working on a black car and are attempting this for the first time, you will likely want a separate and dedicated micro-fiber cloth to buff any uneven areas of your car for complete perfection.
The water based formulation of this car wax makes it ideal to use as what is often called a drying aid in the professional world. Now you can have a freshly washed AND waxed car!
How to Dry Your Car Summary
Give yourself a gold star and stick it to your forehead of you have made it this far! You are now among the few who have the patience and desire for greater knowledge and understanding that will also deliver greater results!
I wish you much success in your car detailing efforts!
Sincerely,
Darren priest
---