Ice Turtle Wax
Some like it, Some love it, Some hate it
If you have any Add Blockers installed in your browser, you will not be able to see this page as was intended.


Admittedly, this was my first experience with Ice Turtle Wax due to the fact that I have always considered Turtle Wax car care products as strictly a retail product; retail products that have been dumbed down for the general public.
I realize that by saying anything negative about Turtle Wax products will have many quickly clicking away from this page as the brand loyalty to Turtle Wax products runs strong and deep. And many people swear by their line-up of car care products.
But as a huge indicator, I have yet to ever see any professional detailer use a single product of Turtle Wax; Ice Wax being one of them. I know that a huge amount of ignorance exists among most car owners and consumers when it comes to cosmetic car care.
The truth is that far superior products exist that deliver not only better results, but a far better user experience.

Ice Turtle Wax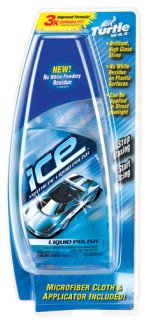 Easy to apply.
Not so easy to remove.
Safe for black trim.
No chalky white residue.
Does not haze up; or ever dry for that matter.
Synthetic ingredients.
This product is instantly appealing for some intangible reasons when a person first spots this unconventional liquid wax sitting on the shelves. I think the transparent packaging containing a completely clear, liquid car wax is instantly appealing to many people. I believe there is a certain power of suggestion with the senses at play here; the suggestion that this clear product represents a new level of protection at some advanced molecular and scientific level. Once you actually try the product, all preconceived ideas of grandeur quickly evaporate into disappointment!
I am willing to bet that many people have been sucked into this same preconceived notion of performance, have tried it once, and now the country is filled with unused bottles of this Ice Turtle wax product to remain as yet another token of disappointment.
If you like the idea of a liquid car wax that flows easily, you will not be disappointed here. It certainly goes on easily due to its very liquid nature. So runny is this Ice Turtle wax that you will get it everywhere you did and did not want to get it! A very lisle goes a long way indeed. I found myself having to be extremely hyper vigilant to stay within the lines to limit application to my car's paint, and not everywhere else.
The packaging states that it is meant to dry for 3-5 minutes before removal. I had difficulty determining when this actually took place as the product never did haze up or change in anyway that the directions had suggested before removal was recommended. After waiting longer than directed, I simply began wiping it off; over and over again. The product doesn't actually rub off, it merely dissipates into a frustrating maze of streaks and shadows.
I was unable to get acceptable results simply following the directions of this product. I was required to use a spray detailer to get acceptable results that I could live with. Perhaps if you were applying this to any light colored car you might find Turtle Wax Ice an acceptable product as you would be unable to determine as to whether or not the product was removed or not. Perhaps this is where the audience for this product remains; light colored cars owned by people who don' know any better and want an overly easy product to apply. But for anyone looking to protect and beautify there car without the frustration and additional work required by Ice Wax, you need to keep on looking!
Ice Wax Alternative

The Turtle Wax That Doesn't Suck!
Despite my reviews on the Ice Turtle Wax, I did come across a refreshing surprise with one of their products I was unaware of.
The Ice Spray Wax by Turtle Wax!



Turtle Wax T-477R ICE Spray Wax - 20 oz. with 3 AmazonBasics Thick Microfiber Cleaning Cloths
This Ice Spray Wax from Turtle Wax is so good, you could literally stop here and get some for yourself. And I can promise you, you will not be disappointed!
With that said; I consider this spray wax under the category of a maintenance wax versus a more durable, base coat wax.
This spray wax can be used as often as you like...seriously!
So easy to use, you will find yourself reaching for it more and more frequently.
Apply a quality base coat of wax every 3-6 months from my links below, and then use this as a wax extender, re-freshener, maintainer: call it anything you want. But you gotta try it!
Professional Grade Ice Turtle Wax Alternatives:
Just like every other industry in life, there are varying levels of products and tools:
Retail
Professional
Commercial

Ice Turtle Wax is definitely under the category of retail grade products. What many people don't realize is that any manufacturer is forced to dumb down their products as they know that any person regardless of intelligence or skill level can go in and purchase a product right of the shelves.
While most professional grade car detailing products can be purchased by anyone, they have been developed with the true professional in mind and deliver to higher standards; after all, professionals are in the business of making their customers happy and their career depends on the performance of the products of choice.
"So Darren, clearly you are not a huge fan of the Ice Turtle Wax car wax; so tell us what you recommend. Or even better, tell us what you use professionally!"
Glad you finally asked!
Synthetic Sealants and Your Car

There are essentially (2) types of products used in the final step of surface car care. (This simply means care for your car paint) And now with modern day chemical engineering, we actually need to introduce a third category:
Wax base. Products know as simply car wax. (Usually made with a base of carnauba wax)
Synthetic base. These are officially known in the professional detailing world as sealants due to the fact that they are made entirely of synthetic ingredients. ( think of traditional motor oil compared to synthetic motor oil )
Hybrid blends. This is where chemical engineering has combined the winning benefits of both natural based wax and synthetic ingredients; most products today fall under the category of hybrid.
Darren's Professional Recommendations:
Synthetic Sealants: The Turtle Wax Ice wax is 100% synthetic and therefore a sealant. For this reason I am including my list of top picks that are all professional grade synthetic sealants that promise to deliver both excellent results, as well as an excellent user experience. You can see all of them here at this page: Car Paint Sealants
When it comes to car paint sealants, you need to understand some essentials as to the pros and cons of choosing a sealant:
As a rule, the durability of a sealant will outlast a traditional carnauba based car wax.
The visual enhancement of a sealant will not be as deep and rich as a carnauba paste wax.
Sealants give a slicker finished feel over that of a paste wax product.
Sealants are typically the choice for people with light colored cars looking to wax less often.
Carnauba and Hybrid paste Wax: For anyone looking for the ultimate in visual enhancement, along with a healthy layer of protection will want the results delivered by a quality paste wax.For my recommendations on the best in quality hybrid paste waxes, see this page: Best Car Waxes

Some people remain forever traditionalists; a quality paste wax will be the only type of wax these people will ever use.
The better choice for visual enhancement over a liquid sealant.
The choice for anyone with a dark colored car when visual performance is the top priority.
Pay "Ice Turtle Wax" Forward

Hopefully I have given you a decent understanding as to whether you think this version of car wax from Turtle Wax is the right pick for you. I personally cannot embrace this car wax whether on a personal use or professional use level. There are just too many other top rated car waxes that will deliver better results and an overall better user experience.
If you have learned something worth passing on I thank you in advance!

Regards,


---
Home

›
Car Wax
› Ice Turtle Wax