Mothers Detail Brush

Set 2 of a complete arsenal

Detailing by nature is very physically demanding. It will not be long before you realize that anything you do to make your life easier as a detailer will reside high on your priority list!

The Mothers detail brush set 2, along with the additional detail brushes on this page is going to help make your life as a detailer that mush easier. 
Despite the fact that you might feel as if the industry itself has you chasing your tail; offering up one new shiny object after another. Many of us feel as though we are chasing our tails in hope of that one product or tool that will end our quest.


Mothers Detail Brush Set 2:

Good, Better, Best
When it comes to finding the "best" of anything; it is really a matter of personal opinion. Once any tool or product is generally accepted as good or great, anything past that will become more about the subtle nuances based on the user of the tool; called the user experience.
The detail brushes below are some of my favorite and each detailing brush serves a specific set of uses just as each brush has its own unique limitations.



Mothers Detail Brush Set - 2 Pack
Overall quality detail brushes that come in a two pack.
Equipped with rubberized detail tip you will find handy for many uses; both on the inside and outside of car.
These bristles are soft enough for use on the dash as well as stiff enough to use on upholstery.
What I consider the winning balance between soft enough, and firm enough.



Wheel Woolies Boars Hair Detail Brush: 1 1/4" Dia.
A must have for dusting out console vents.
Natural hair is the winning balance between soft and stiff.
Suitable for use on virtually any intricate dash and console areas from entry level materials, to luxury brand materials.



10.5" Automotive Cleaning Brush with Dense Solvent Resistant Natural Hair Bristles
Another must have.
Natural bristles are delicate enough for use on most any dash or console material.
Extra long bristles to reach deep into vent louvers.
One of my favorites.


Makeup Brush Set, USpicy 32 Pieces Professional Makeup Brushes Essential Cosmetics With Case, Face Eye Shadow Eyeliner Foundation Blush Lip Powder Liquid Cream Blending Brush
I have found that the ultimate in soft and gentle detailing brushes can only be found within the cosmetic industry.
For use on the most delicate of high-end luxury and sports car interior dash dusting.
This kit will contain more brushes than you actually need, but why not get an assortment of brushes for almost the same cost as an individual brush.
Darren's Professional Tips: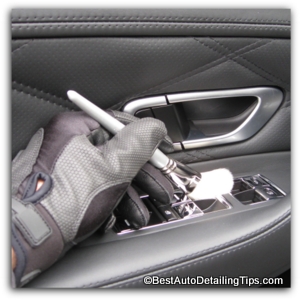 As you can see, a single detailing brush is just not going to cover it. There is a fine line between having too many tools and gadgets, and finding yourself limited due to not enough of the right tools. 

As detailers we tend to be gadget geeks and like to fill our garages or detailing vans with endless gadgets. But with that said, don't underestimate the need for having enough tools to really make you both effective and efficient.
With the combination of the cleaning and detailing brushes on this page, you will have 90% of your dusting and detailing needs covered regardless of the type of car you are working on.

---
Home

>
Car Detailing Equipment
>> Mothers Detail Brush Set