Mothers Detail Brush

Set 2 of a complete arsenal

Detailing by nature is very physically demanding. It will not be long before you realize that anything you do to make your life easier as a detailer will reside high on your priority list!

The Mothers detail brush set 2, along with the additional detail brushes on this page is going to help make your life as a detailer easier. 
Often even as a professional with decades of experience, I feel as if the industry has many of us chasing our tails endlessly buying the next shiny object thrown our way! One new shiny object after another.
But with continued innovation, the industry still has the ability to surprise and deliver real value in the form of new products, new tools, as well as updated versions that truly are better versions of the old.


Mothers Detail Brush Set 2:

Good, Better, Best
When it comes to finding the "best" of anything; it is really a matter of personal opinion. Once any tool or product has been accepted as good or great, anything past that will become more about the subtle nuances based on the user of the tool; called the user experience.
The detail brushes below are some of my favorites. Each detailing brush serves a specific set of uses as each brush has its own set of unique features and limitations.



Mothers Detail Brush Set - 2 Pack
Overall quality detail brushes that come in a two pack.
Equipped with rubberized detail tip at end of handle you will find handy for many uses; both on the inside and outside of car.
These bristles are soft enough for use on the dash as well as stiff enough to use on upholstery.
What I consider the winning balance between soft enough, and firm enough.

Darren's Tips: The Mothers detail brush set 2 is a great buy, delivering the ability of many uses for these two detail brushes. Despite being handy brushes that can serve many purposes of cleaning and detailing, they do have their limitations also. 

While I would still recommend the Mothers detail brush set 2 as handy for miscellaneous detail work for both interior and exterior detailing, see my recommendations below for the various detail brushes I recommend for the "finer details" of car detailing.



Wheel Woolies - Boars Hair A5D Detail Brush: 1" Diameter
Made with natural boars hair (super soft and gets very soft when wet)

When used without any cleaner/liquids, is gentle on interior components

Suitable for use on virtually any intricate dash and console areas from entry level materials, to luxury brand materials
I actually use this one for detailing lug nuts when detailing car wheels (the bristles not only become softer for safety reasons, but because the handle is plastic, it holds up better when using with liquids)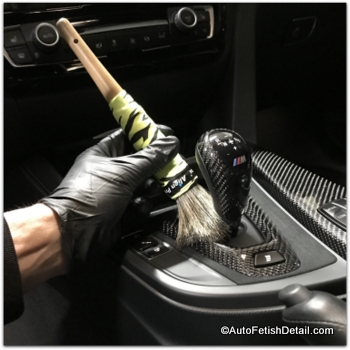 Here you can see how I use tape to customize one of my detail brushes for interior dusting
Darren's Tips: This boars hair detail brush can serve many purposes. I choose this detail brush as my dedicated brush I use for "wet work" only. Meaning I use them for detail work when I need a detailing brush to be used with cleaners and/or water.
I actually have two of these that I reserve for "wet work" only. I simply mark them or store them in different places to keep them separate from each other. One is reserved for the dirtier work associated with detailing the exterior of your car (think wheel lug nuts) versus wet work on the interior (think dirty cup holders)
While you could simply get the 4-pack of detailing brushes below and designate them for the various uses, I like these due to the plastic handles that will withstand "wet work" a little better than the boars hair detailing brushes that have the wooden handles.
Not a huge deal, but something that seems more logical to my "reptilian brain."


SudMagic Boar Hair Car Detailing Brushes - Detail Brush 4 Piece Set for Cleaning Automotive Wheels, Rims, Interior and Exterior
Quality made boars hair dusting/detailing brushes

Natural bristles are delicate enough for use on delicate interior materials

Extra long bristles to reach deep into vent louvers
No metal parts mean extra safety
Darren's Tips: I use these for many uses. I am a big fan of using detailing brushes made from boars hair. Boars hair is not only naturally gentle, but when wet, the bristles become even "softer" or gentler.
Since I keep many detailing brushes for use in both the interior and exterior of the car, buying these as a four pack makes economical sense. Since I also need and use numerous brushes during any detailing process, a set of 4 may seem overkill at a casual level until you realize the benefit of keeping dedicated brushes for dedicated uses.

This can be as simple as interior only brushes, or "wet only" versus "dry only" brushes (this simply means that I will need detailing brushes that I may use with cleaners that will get the brushes wet, versus using the brushes dry to perform tasks that don't require any liquid cleaners). I use a basic permanent marker or colored duct tape to keep these assigned and ready for visual identification.



Detail Factory Ultra-Soft Detailing Brush Set
I have found that the ultimate in soft and gentle detailing brushes could only be found within the cosmetic industry until now (these brushes offer the gentler bristles I was only able to obtain from the brushes used within the cosmetics industry)

For use on the most delicate of high-end luxury and sports car interiors for dusting the sensitive components often found across the dash/instrument cluster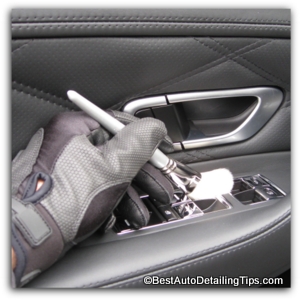 Darren's Tips: Once again, when it comes to detailing your car, it really is all about the details. And cars are made up of endless materials that require the use of different cleaners and different tools. A good detailer will be mindful of being both efficient and safe.
Finding that winning balance of efficacy and safety will be a balance act you will be required to perform when it comes to sourcing your detail brushes just as it will sourcing your chemicals.
As you can see, a single detailing brush is just not going to cover it. There is a fine line between having too many tools and gadgets, and finding yourself limited by not having enough of the right tools. 


Chemical Guys Acc_663 1 Pack Master Grip Soft Horse Hair Detailing Brush
What I consider another necessary detail brush for any serious car owner or detailer
Horse hair brush is super safe (horse hair and boars hair are the most common choices in natural hair for safe detail brushes)
strong handle perfect for those hard to reach areas where you have tight constraints and need strong leverage especially within your cars interior (think between the center console and the front seats at the carpet level)
Also ideal for breaking up dirt and debris during the pre-vacuuming of your seats where the different panels of your seats join, trapping dirt and debris


CARCAREZ 7'' Long Toothbrush Style Car Auto Detailing & Seam Brush for Car Interior Cleaning, Pack of 10
I love these brushes for numerous reasons: small, double sided which features two scrubbing heads
Ideal for super tight areas of your cars interior detailing tasks
This 10 pack is an economical solution (you will wear these out despite 10 of these detail brushes seeming over-kill)


Rubbermaid Professional Plus Scrub Brush, Scrubbing Brush (FGG23712)
My "go-to" car upholstery cleaning brush
I generally use this for floor mats and heavier duty scrubbing
Since you remain in control of pressure, it can safely be used on other interior materials you may not necessarily consider at first
Excellent control as it fits tightly in the palm of your hand or with the attached handle


Chemical Guys ACCG25 Induro 7 Heavy Duty Nifty Interior Carpet/Upholstery Detailing Brush
Another one of my favorite scrub brushes
Despite the above brush, this brush proves handy in a different manner due to its extended handle when an extra reach of your arm is need to clean carpeting under dash board and car seat areas
As detailers we tend to be gadget geeks and like to fill our garages or detailing vans with endless gadgets. But with that said, don't underestimate the need for having enough tools to really make you both effective and efficient, along with being safe.
With the combination of the cleaning and detailing brushes on this page, you will have 90% of your dusting and detailing needs covered regardless of the type of car you are working on.
I hope I have helped in your quest for the best detailing brushes regardless of your opinion of the Mothers detail brush set 2!

Sincerely,


---