Portable Battery Jump Starter:
The Better Review

Why is this portable battery jump starter going to be the better review...
Because I am going to take you past the obvious, speak from experience, and go even deeper into a niche that most people would not traditionally associate with a portable car battery jumper.

When it comes to a search for the best of anything, it is always going to be reduced down to finding the winning balance between features, benefits, and cost. Of course this is based on the ability to have enough information to make an informed decision rather than a biased or misinformed decision. (Those kind always lead to disappointment and frustration)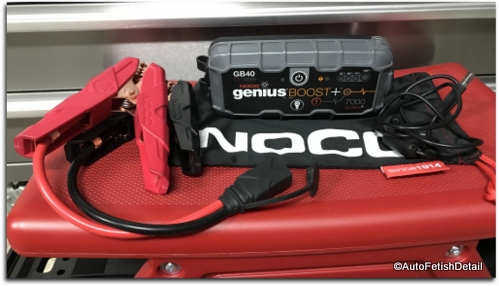 A picture of my own NOCO portable battery jump starter. I have had mine more than 3 years and it has never let me down.
Emergency Battery Jumper
Battery jumpers have been around for a very long time. Of course these were known as jumper cables originally and a power source called another battery was required. And just like every other area of life, technology has made massive improvements when it comes to a portable battery jump starter.
"Going for good to amazing"
Thanks to technology we now have many choices in jump starters, portable battery packs, and the like. The exact one I use personally and professionally.



NOCO Genius Boost Plus GB40 1000 Amp 12V UltraSafe Lithium Jump Starter
Small enough for ease of travel and storage. Big enough to tackle any jump starting needs.
Mistake and spark-proof technology.
High-output 100 lumen LED flashlight w/ seven light modes.
Makes as a USB battery pack to power/charge personal devices.
Includes needle nose battery clamps, USB charging cable, micro fiber pouch.
1 year hassle free limited warranty.
Life time customer support.
Up to 20 jumps from a single charge.
For use on any 12v battery and rated for 1000 amps. Suitable for use on gasoline engines up to 6 liters and diesel engines up to 3 liters.
Portable Battery Jump Starter:

NOCO Genius BOOST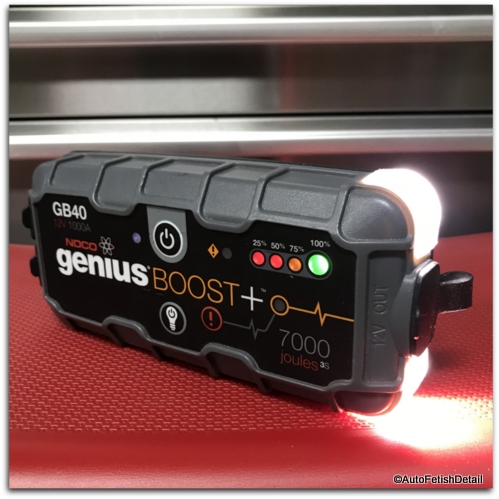 Here you can see the handy LED lights that are engineered into the ulta-handy portable battery jump starter that is so very versatile!
I realize many of you coming to this page have nothing to do with auto detailing. This just shows you how versatile this portable battery jumper is when it comes to life in  general, as well as specialty niches like auto detailing.
Why I carry one:
You just never know when your customers car has a weak battery. ( You just spent hours detailing their car and now you have a rude awakening to a dead battery...darn courtesy lights!)
Gone are the days of trying to position an alternate car to use traditional jumper cables for a jump start.
I carry this at the beach, on trips, anywhere I could possibly need a portable battery pack for all my personal devices. (It's not just to jump car battery's with)
Ideal to have around when any power outages occur in the neighborhood to power up your personal devices.

It really is all about preparedness!
This is one of those tools that you will likely be unwilling to get until you are faced with a big enough crisis. Back when I fist started detailing I simply carried around jumper cables. I have seen how those have progressed into smaller and smaller versions. Now we have handy little emergency battery jumpers like this little beast that I now carry around so I don't get caught in a bind being unprepared!
I definitely recommend this version as I know how handy it has been as well as 100% reliable over the 3 years I have had it.I will leave you with this:
"If you fail to prepare, then you are prepared to fail."
And if you don't fail, you will certainly be caught in an inconvenient situation...
Sincerely,


---