Tips for Cleaning Windows

Darren breaks the rules again!
While you think you may have heard all the tips for cleaning windows, you haven't heard my tip. And my tip is more than just a tip, but what I think would be more of a trick to clean car windows without the smudges, streaks, and unwanted marks.

Any of my long-term followers of my websites or my YouTube channel know I am famous for using products and tools not traditionally associated with the auto detailing industry. I am also famous (or infamous depending on who you ask) for venturing off the trail by performing what is called "off label" use of products.
Darren's Note: You can see my specific window cleaning tutorial using this method at my YouTube video below.

Tips For Cleaning Windows:
Off-label use to clean car windows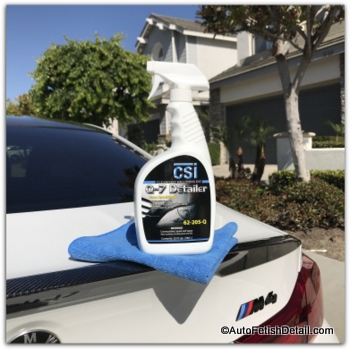 Off-label is when a person like me breaks by using the product in a way in which the product is not labeled for. This can be as simple as not following the instructions specifically, to using a product for an entirely different task of the detailing process.
A simple example would be to use a dedicated window cleaner to clean your chrome car wheels with. Not unheard of, but still considered off-label use.
But as a professional detailer and a very curious person, I go way beyond what most detailers would call traditional off-label use.

Tips for Cleaning Windows:

Darren's secret for streak free windows
Since I am going off the trail here and letting you know what my professional secret from perfectly clean and streak free windows are, I will bullet point the different products, cloths, and steps needed to get results you have likely been searching for:

The products
The tools
The steps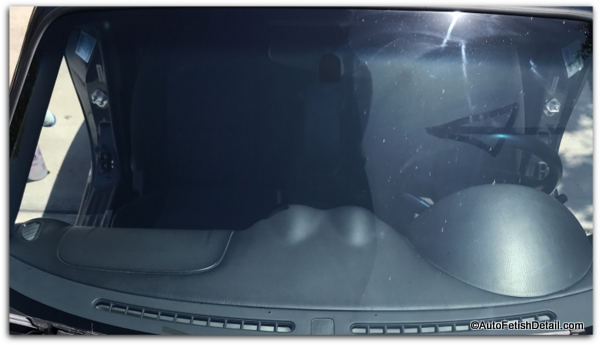 Here you can see first hand the dramatic difference between the left and right side of this window on a car that had n9t had its windows cleaned in years! The heavy haze build-up on the inside of this window is made apparent by the arrow I drew in the haze build-up pointing to the newly cleaned window using the exact products and steps outlined in this window cleaning page.

Tips for Cleaning Windows:

The products
You will need only (2) products for this car window cleaning trick:
CSI Q-7 Detailer (purchase through the link below via Amazon)

Distilled water (can be purchased at your local market)

Darren's Note: I have been using the CSI Q-7 Detailer as a dedicated spray detailer for over a decade. It is only recently that it has been made available through Amazon (hurray!). While it is a great quick detailer for your car's paint, the formulator/founder of this company is the one who shared this secret to getting perfectly clean, smudge free car windows. The base formula of this detailer is also the base formula for many of his other products.
I use distilled water as it is the most pure water to be found or had. I pay $1.00 for a gallon of distilled water at my local market. You don't have to overthink this part of the equation as distilled water is the same regadless of the brand you choose. (with that said; I don't recommend this car window cleaning tip by trying to use another manufacturer's quick detailer)


CSI Q-7 Detailer Quart 62-205-Q
Tips for Cleaning Windows:

The tools
After the products, now you need the right tools. There are only a few and some of them are optional.
Micro-fiber cloth to apply Q-7 detailer for the initial cleaning/prepping car window(s)
Waffle weave micro-fiber cloth to be used with distilled water to remove Q-7 Detailer after you have cleaned/prepped car window(s)
Car window cleaning tool
Darren's Note: The micro-fiber cloths are not an option here. You can decide on the exact micro-fiber cloth you choose, but I am recommending the one's I use for these tips for cleaning windows. And these car window cleaning tips can be used for all windows (tinted or not) of your car, but particularly your front car windshield as this is the trickiest of all windows to clean prefectly.



(12-Pack) 16 in. x 16 in. Commercial Grade All-Purpose Microfiber HIGHLY ABSORBENT, LINT-FREE, STREAK-FREE Cleaning Towels - THE RAG COMPANY (Grey)
These micro-fiber cloths are what I use along with the CSI Q-7 Detailer to clean/prep the window as the first step. Fold the micro-fiber cloth to a size that works for you and your hands. Spray a few shots of the Q-7 Detailer directly onto cloth. Now aggressively and thoroughly scrub/rub the window you are cleaning with the understanding that you are preparing the window with the intent of removing any built up haze, smudges, streaks, finger prints etc.
Most people do not understand how much "out-gassing" takes place on the inside of your car. The interior materials your car is built with will naturally emit gases from the chemicals/materials used to make the interior parts. These impurities, additives emit invisible gases/fumes that will collect and stick to the interior of your car windows. When these gases/fumes collect over time it will cause your windows to be very difficult to clean. Often it will make your windows "grab" your window cloth as you try and clean your car windows and will not allow any window cloth to slide smoothly.
By using the Q-7 Detailer as a prepping agent, you will be literally cutting/removing this build up haze for some seriously clean windows. And it is for this reason you need to understand the preparation process and work aggressively to remove this invisible build-up.
Once you have prepped the window with the Q-7 Detailer using the damp side of the micro-fiber cloth, you then need to flip cloth over and remove any excess Q-7 Detailer as it will leave a haze as it dries. (The good news is that this Q-7 Detailer will not stain any interior materials so you do not need to worry if you get some on surrounding materials of your cars interior)
After you have completed this step, move onto to the next tips for cleaning windows.



[No Streak Freak] Microfiber Window Mirror Waffle Towel (16"x16") White - 3 Pack
These micro-fiber waffle weave cloths are my favorite window cleaning cloths. They are thick enough for a durable working "tool", have a finished edge, and are less prone to rolling-up as you clean your car windows. Other dedicated car window cloths are often thinner material and tend to roll-up as you struggle to fight against that dreaded invisible haze that has accumulated on the inside of your car windows.
Fold these cloths to a size that works for you and your hand, spray the distilled water onto one side of your cloth. Now proceed to clean your window as you normally would when using a traditional car window cleaner. Everyone is different as some of you will prefer to spray the water onto your cloth while some of you will prefer to spray the window directly and then wipe.
During this step you can choose whichever method you are most comfortable with. I actually prefer to spray the window with the distilled water (you will need to contain your distilled water in a separate sprayer for ease of use) and then wipe down entire window you are cleaning, then flip cloth over and buff to perfection.
At this point you will have completed your car window cleaning efforts and should have the cleanest car windows you have ever seen.
Tips for Cleaning Windows:

That extra trick of the trade
I am including this cool little tool as it is especially useful for a few reasons:
Cleaning front windshields that often represent very tight areas next to the lower section between dashboard and inside front windshield
People with limited strength or mobility
I discovered this tool back when I used to use Invisible Glass window cleaning products to clean car windows. One of my favorite tips for cleaning windows is this tool that allows you to really leverage your strength in not only scrubbing harder than normal, but accessing the tight areas between the inside of the front windshield and the top of the dashboard.



Invisible Glass 95161 Reach and Clean Tool (1-Piece) - Window Wand Glass Cleaning Tool for Windshields, Invisible Glass Cleaner for Auto Glass, Clean and Reach Tool for Hard-to-Reach Places
Ideal for extra leverage when prepping your car windows with the Q-7 Detailer
Access those extra tight areas of your front windshield
Great for extra leverage if you have limited strength and mobility
Allows for further reach when cleaning front windshield than your hand/arm would normally be able to do

Darren's Tips: I love this tool! I simply drape whichever micro-fiber cloth I am using directly over the working pad without folding the micro-fiber cloth. This tools' working pad has a very thin foam-like pad that allows any cloth you choose to remain in place as you scrub/prep the window you are cleaning. If you do use this tool, follow all the directions as outlined above and simply use this tool in place of your hand as you see fit. Aside from not folding the micro-fiber cloths as outlined above, you follow my steps as outlined above when using this tool. This tool is simply meant to replace using your hand.
Tips for Cleaning Windows:

Maintenance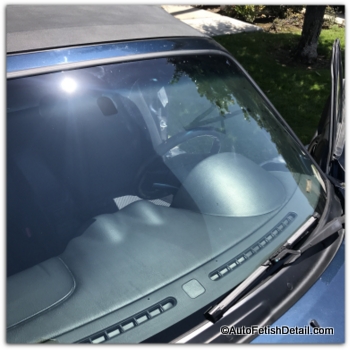 Another shot of this same car from a different angle. Take note of the perfection in the freshly cleaned side as the sun beats directly onto windshield to reveal zero window streaks and haze.
Once you have cleaned your car windows to your satisfaction, moving forward is now going to be easier in keeping your car windows clean. My rule has been to simply continue to freshen up your car windows with nothing but the waffle weave micro-fiber cloth and distilled water.
You should find this is all that is required for months to keep your windows clean and streak free.
Simply fold the waffle weave cloth, spray the cloth or the window with the distilled water, wipe to remove and haze/smudges/etc., flip cloth over and buff to perfection. If you find that after a few months your windows are beginning to look and feel like a haze is accumulating, simply repeat the steps of these tips for cleaning windows using the Q-7 Detailer.
Tips for Cleaning Windows Summary
I hope you have as much success as I have had with this trade secret that still remains a secret. Since I will be producing a YouTube video outlining this secret its days are numbered before it is exposed to the world. At which point it will become additional material for all those so-called expert YouTube detailers to create videos and "borrowing" this method and calling it their own.
Nonetheless you are now among the privileged few. Much success in your detailing efforts!
Sincerely,
Darren Priest
---