All Purpose Cleaner:
Simplifying the world of car care!


Staying true to the philosophy of "detailing made simple", all purpose cleaners fit right into the concept of simplification.
Instead of filling your garage shelves with endless dedicated cleaners of every kind, now you can eliminate many of the dedicated cleaners by choosing a quality cleaner that is suited for many car cleaning and detailing tasks; hence the label all-Purpose, multi-purpose, or even multi-surface cleaners.

Of course the industry has gone to great lengths to convince you that dedicated cleaners are the "real" way to go and the more professional approach. And if the idea of lining your garage shelf with countless cleaners, polishes, and waxes is some form of badge of honor to you, then simplification is likely not part of your world.

Cleaning Made Simple

Darren's Warning:
Endless variables exist and everything cannot be controlled. For this reason, you always need to start with manufacturers instructions and do a test section first...always!

The reason this all purpose cleaner from Meguiar's has made it on my professional "Must Have" list is for a few specific reasons:
Meets the criteria for detailing made simple.
Is economical.
Is safe for virtually every material including leather.

Concentrate; custom dilution ratios are possible.
Easy to get.
Very effective.
Although this cleaner is very effective for many of the tasks for cleaning and detailing the outside of your car, I primarily use it for all my interior shampooing and cleaning. And for most of you, this cleaner from Meguiar's will tackle 98% of all your car interior cleaning and shampooing; including general maintenance cleaning.
Retail Cleaners vs. Professional Cleaners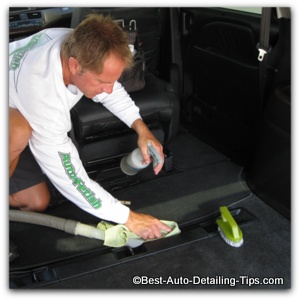 Unlike cleaners you will find lining the shelves at local retail outlets, professional grade products have not been "dumbed down" to the point of being virtually ineffective. Due to lawsuits of every kind, manufacturers have to formulate products that are idiot proof.
Because this website caters to a vast audience, I offer different products that you pick and choose from as you determine what is most appropriate for you and your world.

---
Meguiar's All Purpose Cleaner

(use the secure image or text links below to get yours now from Amazon and help support this website. If you don't see any image or link, disable your ad-blocker on your browser)




Meguiar's D10101 Detailer All Purpose Cleaner Gallon
I have been using this product for years at a professional level and use it daily to clean and shampoo the interiors of every level of cars imaginable; from daily drivers, to luxury sedans, to exotic sports cars.
Almost endless uses with the ability to custom blend for exact desired cleaning power:
Carpeting, cloth, and fabric shampooing and cleaning.
Car leather cleaning.
Velour headliners to high-end Alcantara lined interiors.
Virtually anything that gets dirty, can be cleaned with this all-purpose cleaner.
A gallon might seem over-kill to many driveway detailers or enthusiasts, but this product has so many uses and is very economical.

Chemical Guys All Purpose Cleaner

(use the secure image or text links below to get yours now from Amazon and help support this website. If you don't see any image or link, disable your ad-blocker on your browser)



Chemical Guys CWS10316 Fabric Clean Carpet and Upholstery Shampoo and Odor Eliminator - 16 oz.
Another economical choice in an all-purpose cleaner.
Concentrate formulation which means you can custom blend to your desired strength.
Safe for virtually anything that gets dirty.
Smaller sized concentrate for those of you not wanting to go level 10 with a gallon of the Meguiar's APC.

Ready To Use (RTU) Cleaner

(use the secure image or text links below to get yours now from Amazon and help support this website. If you don't see any image or link, disable your ad-blocker on your browser)



303 (30207) Multi-Surface Cleaner Trigger Sprayer, 32 Fl. oz.
For those of you wanting to keep life super simple.
Ready to use; no diluting required.
Safe for all surfaces within your car; yes, even car leather.
Will handle 95% of all cleaning needs within your car. If you are looking for heavy duty cleaning abilities, you will have to see this page: Heavy Duty car upholstery cleaning

Darren's Professional Tips:

As I have stated, I have tested and used both products professionally on a daily basis and can clean and shampoo virtually every car without using any other product for about 95% of all cars, on all materials...how's that for simplifying things!
Follow manufacturers directions when diluting to desired strength.

Will not leave sticky residue when used according to manufacturers directions; regardless of what you may have heard or read from misinformed people with no experience.

For specific cleaning and shampooing tips, see how to clean car upholstery.  
Many of you might think a gallon of concentrate might be overkill, but due to the fact that this cleaner has so many uses you will appreciate the value and ability to custom blend. And if so, I have also included the smaller version from Chemical Guys. Both will perform for you.

Don't forget the dedicated Meguiar's spray bottle and the professional sprayers below.
If you think a carpet extractor is the only way for cleaning then think again; don't under-estimate how much dirt you can clean away from following the simple steps of: pre-vacuum, spray all-purpose cleaner, scrub with upholstery brush, and mop up with cloth. Repeat until desired results are achieved. Light applications are much better than unrealistically thinking you are going to get it all in one go with over-saturation of the area you are cleaning.
A trick of the industry and one of my own professional "tricks" is to always apply a fabric protector after each cleaning. This will make all your subsequent cleaning efforts far easier than ever!

---
Professional Detail Sprayers


These are the exact sprayers I use professional and find them the most pleasing to use among all sprayers. If you have seen my YouTube channel videos and notice that my sprayers are gray, this is only due to the fact that I purchase mine in bulk from a different source but these are identical; only a different color.



28mm Gray Chemical Resistant Spray Head 9-1/4" Dip Tube (6-pack)
Professional Sprayers and Bottles

Based on your world, you will either need just the spray heads above if you already have bottles at home to mix the all purpose cleaners in, or in many case you will need both the spray bottle and spray head. Use the link below to get the highly rated sprayer bottles and spray heads to use with any and all the cleaners you decide to use.



Chemical Guys ACC_121.16HD-3PK Chemical Resistant Heavy Duty Bottle and Sprayer (16 oz) (Pack of 3)
If you are looking to simplify your world, any of these cleaners are an excellent starting point. Watch any one of my many videos on YouTube where I show actual techniques I use in my professional world of auto detailing.
Watch Darren's Comprehensive Video

If you haven't checked out my YouTube channel yet, now is the perfect time to watch as I demonstrate and review the all purpose cleaners from above and show you the one's I recommend most.
Home

>
Auto Detailing Supplies
>>
All Purpose Cleaner