Best Wax for Black Car
Darren's Tips for Success



Finding the best wax for black car is not about finding the one single car wax, as there are many car waxes that will perform, but more about weeding through the endless opinions of bad information.

A subject as simple as finding the best wax for a black car quickly turns into an anxiety induced search online. From one review to another. Each review offering up a different opinion.
So stay with me as I lay out the things I think you are not taking into consideration when hunting for the best automotive wax for black cars.
What I consider the best wax for black car.

Understanding the limitations of waxes.

Car wax versus paint sealants.

Wax hybrids.

Application tips. (bottom of page)

Q: What is the best wax for a black car:
A: The simple rule is a paste wax. And experience has taught me that most paste car waxes will produce very good results. The real difference comes down to the user experience and the cost. Often guys will obsess over finding the best wax for a black car and forget about the user experience. What good is the best wax if that wax is miserable to use!
Q: Understanding the limitations of waxes.
A: What you need to realize is that any type of car wax or paint sealant has limitations. Remember that car wax and car paint sealants serves two distinct purposes:
Protection
Visual enhancement

The best wax in the world is not going to cover up and conceal every blemish and problem your car paint has. It will simply enhance what is already there, and help conceal very superficial problems and blemishes at the same time. I find many people search and search for the best car wax but simply have unrealistic expectations. People think think finding a wax that is going to magically cover years of abuse and/or neglect is realistic when it just isn't. Of course there are waxes that cover and hide blemishes better, but every wax on this page is an excellent choice. You just need to remember that any wax will be limited. Polishing your car paint is the only path to achieving perfection. The good news is that even a true beginner can polish paint with the latest in easy to use car polishers and products.

Q: Car wax versus car paint sealants.

A: The simple rule is that 100% synthetic paint sealants (can be labeled as synthetic sealant or polymers and come in a liquid form) are accepted as the best in durability, while sacrificing in the covering or hiding capabilities usually achieved by a paste wax. Paste waxes are typically where you will find the best in a carnuaba wax and will provide the best in visual enhancement while sacrificing in protection.

Q: Wax hybrids
A: The really great news is that now you can get the best of both worlds with uniquely formulated wax hybrids that are a combination of natural based carnauba wax and synthetically engineered polymer blends.
Meguiar's Ultimate Paste Wax


Meguiar's G18211 Ultimate Paste Wax - 11 oz.
Overall one of the best wax for black car waxes you can find that represents a great balance of benefits.
Excellent results without breaking the bank
ThinFilm technology provide for effortless application and wipe off even in full sun
Advanced synthetic polymers crosslink to form a long-lasting protective barrier amplifying reflection for incredible depth and mirror-like shine
Hydrophobic Polymer technology increases surface tension so water beads and rolls right off the paint
Wax on, wax off; does not need to haze up. (the acronym for this is what is called WoWo)


P21S Paste Wax
Professional grade car wax.
Non-staining formulation; won't stain black trim.
Wax on, wax off; does not need to haze up. (the acronym for this is what is called WoWo)
One of my personal favorites.
Considered enthusiast to professional grade.
Exclusive Carnauba-beeswax blend.
Wolfgang Fuzion Estate Wax


Wolfgang Füzion Carnauba Polymer Estate Wax
Premium blend of natural carnauba and synthetic polymers.
Non-staining formulation; won't stain black trim pieces.
Can be used in any conditions; even hot and humid conditions.
Will not dry to a white chalky haze; wipe on, wipe off.
Unique formula fuses best attributes of paint sealants and carnauba wax.
Wax on, wax off; does not need to haze up. (the acronym for this is what is called WoWo)
Best Wax for Black Car Application Tips

Whether you are looking to wax a black or or any other color of paint matters not when it comes to application and removal of the wax. I will bullet point the key factors to be mindful of: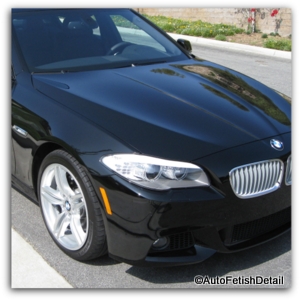 Always start by reading the manufactures directions for use.
Start with a clean, dry surface.
The condition of your paint is just as critical (if not more) as is the application of car wax. (You should always prepare the surface first by decontaminating the paint and then polishing if you want to take your paint to much higher levels of perfection)

Every product is going to perform better on a cool, shaded surface. But with that said, many products can be used in the direct sun on hot paint.
You may have heard people say not to wax in circular motions as this will produce swirl marks. Unless you choose some kind of car wax that has actual abrasives (any cleaner wax will generally only have what are called chemical cleaners in them and have no abrasive to serve as the "cleaner") to it, you are not going to put swirl marks in your paint. And swirl marks is a label that is misused by most people anyways.
If you are still using baby diapers to remove car wax you need to immediately abandon that method. You need to get yourself a quality micro fiber cloth for the removal process.

Most car waxes and liquid car paint sealants will leave a chalky residue in the seams or stain black trim. None of the recommendations below will do that to you.
I also know that the "best" wax in the world will do no good if you are unwilling to use it due to a poor user experience. So in many ways the best wax for black car is simply a wax you are willing to use. All the waxes recommended on this page will deliver excellent results and an excellent user experience.

Thank you for visiting best wax for black car. I bet you know of at least one other person who would appreciate the information I have laid out on this page. So please post this to your FB or Twitter account and help me spread the word!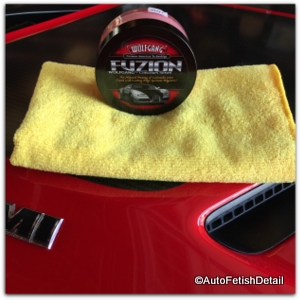 Or just send them the link and pay it forward in that way. I have made it very easy to spread the word with my "Socialize It" buttons!

Sincerely,

---
Home

›
Detail Tips
› Best Wax for Black Car