Car Upholstery Cleaner
Darren's simplified approach


Finding a top rated car upholstery cleaner is really an easy find, as most of them will produce acceptable results. But what if you are looking for something that is better than just "acceptable"?
The good news is that the industry has an almost endless selection of car interior cleaners to choose from. But with that said, the industry would also like to see your garage shelf filled with endless products; dedicated products for each material and each section of your car. And likely, many of you have already fallen prey to the industry and its endless slick marketing and advertising tactics.

"Darren, do I really need a dedicated car upholstery cleaner, a separate car leather cleaner, and a carpet shampoo? Surely there must be a product that can do more than a single job and do it effectively"
The Industry Has You Chasing Your Tail!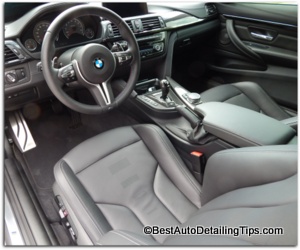 The most basic thing you need to learn about this industry and virtually every other industry is that big business has one goal and this goal is at the very top of their list....
figuring out ways to separate you from your money. Through fancy names, colorful packaging, and catchy slogans, car care companies have become very savvy at their quest to further empty your wallet every time you walk down the car care aisle of your favorite retailer or go online in search of the best car upholstery cleaner.
"What if I could show you a way to simplify your life by letting you in on a secret any professional detailer knows and uses in their business to become more efficient and more effective."


Darren's Top Rated Picks:

Car Upholstery Cleaners in a concentrate formulation
Darren's Professional Tip: Once you have learned what I recommend professionally with these car interior cleaners, see my page on auto upholstery protectors to see how I am able to make my life easier as a professional, and how you can keep your cars interior looking new for as long as you own your car.

Below are my top two picks in what I consider the best car upholstery cleaners; regardless of how they are labeled.
The first section includes concentrates that you dilute down to the desired strength and are package with the professional in mind. Professionals will be going though far more car upholstery cleaner than a driveway detailer working on a single car or two.
The second section contains what are called ready-to-use (RTU) car upholstery cleaners designed and packaged for the enthusiast or driveway detail who will have limited use as compared to a professional in the business.
With that said, all these auto upholstery cleaners can be used to achieve truly professional grade results.
Chemical Guys Fabric Clean



Chemical Guys CWS_103 Foaming Citrus Fabric Clean Carpet & Upholstery Shampoo (16oz), 16. Fluid_Ounces
Massive amounts of positive ratings.
One of my top picks for a car upholstery cleaner.
Concentrate so you only pay for the actual cleaners; more economical.
Dilute 20:1 (one part cleaner with 20 equal parts water)
Combines a super biodegradable degreaser with enzymatic odor eliminator.
No ammonia, bleach, or fabric damaging detergents or solvents.
A super versatile car upholstery cleaner safe for virtually every material in your car including car leather.
No sticky residue. No rinsing necessary.

---
3D Upholstery and Carpet Shampoo


3D Upholstery & Carpet Shampoo | High Foam Stain Remover | Clean & Deoderize | Odor Eliminator | Made in USA | All Natural | No Harmful Chemicals (16oz.)
Another excellent car upholstery cleaner.
From shampooing to all-purpose cleaning of your car's interior.
Professional grade results.
Smaller container will save on any shipping costs using this link.
No sticky residue; no rinsing necessary.

---
Darren's Other Top Picks:
Ready to Use (RTU) for the driveway detailer, enthusiast, or a general all-around car owner.

If you are a driveway detailer or simply a car owner looking to keep your car's interior show room fresh, then a ready-to-use product will be more suited for your needs due to your limited use in maintaining only your personal cars.
The samples below are excellent products and will perform to professional level standards.

Car Guy's Super Cleaner



CarGuys Super Cleaner - Effective All Purpose Cleaner - Best for Leather Vinyl Carpet Upholstery Plastic Rubber and Much More! - 18 oz Kit
For the car enthusiast or driveway detailer looking for the convenience of a ready-to-use car interior cleaner.
Safe for use on all interior materials.
Carpeting, velour, leather, vinyl, rubber.
No sticky residue; no rinsing necessary.
---
P&S Xpress interior Cleaner



P&S Detailing Products Xpress Interior Cleaner 1pt
Another quality ready-to-use carpet cleaner that is suitable for use on all your interior cleaning and shampooing.
Perfect size for the enthusiast or driveway detailer.
Professional level results.
No sticky residue; no rinsing necessary.

Darren' Professional Tips:

If you have a brand new car and are looking to keep it looking brand new; you don't need to over-think your choice in any of the above car upholstery cleaners.
Preventative maintenance is always easier and less painful than the cure; so keeping your car upholstery clean from the beginning is the best plan.
From your car floor mats, to vinyl, to cloth, to leather, any and all these materials can be cleaned very easily and simply with any of the products above.
Car Upholstery Cleaning Brushes

This is yet another area that doesn't need to be over-thought. And since it is straight forward, I am only offering a couple selections instead of burying you with many.
---
Rubbermaid Iron-handle Scrub Brush



Rubbermaid Professional Plus Scrub Brush, Scrubbing Brush (FGG23712)
This is my first choice in an all-purpose scrub brush I use on all fabric in the easy to reach ares of car upholstery cleaning: floor mats, leather seats, fabric seats, some headliners, trunk carpeting, etc.
Occasionally the cheaper tool can be the better tool.
A winning balance between stiff and gentle bristles. (see below for additional scrub brushes I also carry and use with me)
---
OXO Cleaning Brush



OXO Good Grips Heavy Duty Scrub Brush
My "go-to" scrub brush for virtually any car interior cleaning.
The winning balance between too soft and too stiff.
Not truly my very first choice (the Rubbermaid brush just above would be that one), but if you prefer the hand held version rather than having a handle like the Rubbermaid above, then this is the one for you.
Lower profile so it is able to go underneath areas within the interior cabin that the Rubbermaid brush with a handle will not be able to access (like when shampooing underneath car seating)
---
Mothers Carpet and Upholstery Brush



Mothers Carpet and Upholstery Brush
Definitely a stiff brush I would reserve for cleaning floor mats and other heavy duty cleaning.
As a rule, too stiff for use on leather, velour, or other sensitive fabric like materials.

---
Casabella Bottle Brush



Casabella Smart Scrub, Bottle Brush
This is the exact bottle brush I use in my professional world.

More aggressive or stiff than the OXO brush below.

Since I use this on hard plastics and fabric within cars, I prefer the much stiffer version.
The softer OXO bottle brush below is not aggressive enough for manyu of the ways I like to use these bottle brushes when I am using any cleaner or on any surface. (no; I do not use these on car paint, clear instrument panels, or wood veneer within the car, but those are about the only surfaces/materials I don't use them on)
Amazing how many hard to reach areas these bottle brushes are ideal for: in-between car seats and center console, trunk carpeting to break loose dry debris, inside cup holders and side compartments, etc.

---
OXO Bottle Brush

This is a great bottle brush for the kitchen, but not aggressive enough for most of my uses in detailing.
But with that said; I love having choices. I do prefer this one for its softer bristles for certain jobs where the stiffer Casabella bottle brush above would be a littel too aggressive.

So if you are particular, I would ideally have both in my detailing arsenal so I can have the perfect tool for any job.

Perfect for those of you who play life overly cautious.
---
Non-abrasive Scrub Pads (cut to size)



Commercial-Grade Non-Abrasive White Cleaning Pad 5 Pack By Mop Mob. Large, Multi-Purpose 10 in x 4 1/2 in Scouring Pad Fits Universal Holders. Great For Scrubbing Sinks, Tile, Windows and Fine China
Non-abrasive scrub pads perfect for scrubbing large areas.
Safe for use on all leather, vinyl, plastic, car interior parts.
Identical to the one's I buy at my local retailer.
As safe as safe can get.
Easily cuts to size if the 10" length is too large for your preference

---
Natural Horse Hair Brush



Horsehair Detail Brush - GF-HH
Winning combination of gentle and aggressive.
For those tighter, harder to reach areas of the interior. (one of my favorite places to use this brush is when cleaning the carpeting/seat track between the side of the front seats and in between the center console. )

Handle allows for greater leverage when using in tighter areas.
The longer handle is also ideal for those tighter areas where a traditional length tooth brush or other cleaning brush will not reach.
---
Vinyl and Leather Interior Brush
Ideal for more detailed areas of cleaning.
Winning combination of gentle and aggressive.
Safe for use on any interior material from leather, carpeting, velour, suede, etc.
Ideal for detailing/cleaning the tight area between the accent piping and seat cushion found on many of the car seats within many cars.
---
Dual Purpose Tooth-Brush Style Detail Brush


Chemical Guys ACC_S02 Dual Purpose Toothbrush Style Detailing Brush
A detail brush I consider a must have.
Ideal for very tight areas of cleaning.
Stiff bristles make this a better alternative to traditional tooth-brush type detail brushes.
Dual sized bristles make this detail brush very versatile.
---
Wheel Woolies Detail Brush



Wheel Woolies - Boars Hair A5D Detail Brush: 1" Diameter
I prefer this boars hair detail brush when I am using any chosen car upholstery cleaner to use wet rather than the other boars hair detail brushes that I keep dry.
Boars hair is incredibly soft and gentle and only becomes even softer when the hairs become wet.
I use this when I have to use a cleaner that is going to be required to break loose debris and dirt when detailing intricate parts within the cars interior.
A must have in my professional detail arsenal.
---
Boars Hair Vent Dusting Brush


Boars Hair Ultra Soft Car Detail Brushes - Set of 3 - Perfect for Washing Emblems Wheels Interior Upholstery Air Vents, NO METAL Brush Parts
A must have for dusting your dash vents.
Ideal set with different diameters. (I keep one that I use wet when using one of these as a scrub brush in tight areas along with my car upholstery cleaner. If you purchase this set, it can allow you to not have to get the separate boars hair dusting brush just above as your dedicated wet detail brush.)

Use on vents, cup holders, or any intricate parts of the cars interior.
Boars hair is a very soft bristle.


Darren's Upholstery Cleaning Tips: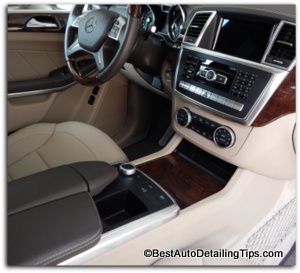 Vacuum any area you plan on cleaning FIRST!
Removing as much dry and loose debris is always a plus and will deliver better finished results as well as get you to the finished product quicker and easier.
You can also use scrub brush while vacuuming to further loosen and remove extra dirt before application of car upholstery cleaner.
Always follow manufacturers directions first; it's best to learn the rules first before you learn to break them with off-label uses.

Spray pre-vacuumed area with a light misting of upholstery cleaner, scrub with brush, mop up area with cloth. (as a rule, I prefer micro-fibers over cotton or terry cloth)
Repeat as necessary.
It is always better to do repeat applications rather than unrealistically think you are going to get everything in one overly saturated single round of upholstery cleaning.
Renting, using, or buying a heavy-duty and industrial hot water/carpet extractor is in most cases never, ever necessary. We are talking extreme cases of liquid spills if ever.
If your carpeting or upholstery is heavily soiled, it may require as many as 4-7 applications/steps in order to achieve acceptable results. Still much better and easier than using a carpet extractor or the traditional scrub and hose out floor mat with pressure water method. (as if you could do that with the rest of your car's upholstery anyways)
If you are one of those people in fear of using a car upholstery cleaner thinking that it will leave a sticky residue and "attract" dirt...forget about it. It's just not the case.
Vacuum cleaned area after it has dried completely to remove loosened dirt and lint from your cleaning efforts. If you have cleaned heavily soiled areas and you vacuum before the area has been allowed to dry, you will suck wet dirt to the top and will have to repeat your steps.
And let me be a voice of reason: there is no car upholstery cleaner or shampoo, cleaning method, or carpet extractor that is going to remove every last trace of dirt; it's just an unrealistic expectation. So if we are looking for a certain level of cleanliness and visual appearance, then why over-think the situation. I have used these methods for decades with superior results.
I have seen floor mats so heavily soiled that if this carpeting was in your house, any carpet cleaning professional would simply tell you that it will be cleaner, but still look dirty as the carpet has become permanently stained due to prolonged exposure to dirt and would need to simply be replaced. So let's once again keep a realistic perspective if you are dealing with excessively dirty floor mats.

---
Darren's Professional Tip:

Prevention is better and easier than the cure
Most people underestimate the power of fabric protectors. It is one way I am able to produce the results I do over and over again for my long term customers when it comes to upholstery cleaning. Use the link to see what I recommend in the form of car upholstery protectors.

Carpet and Upholstery Protector
Car Upholstery Cleaner Summary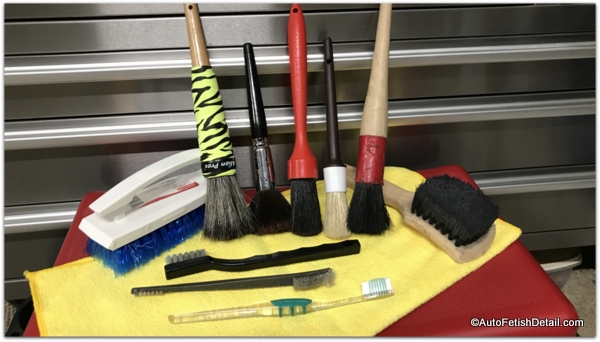 If you have made it this far into this page, consider yourself among the few! For you are now more informed than not just car owners in particular, but most beginner detailers I come across in my world of professional deailing.
I hope I have not only helped you to become more informed in choosing a quality car upholstery shampoo, but helped you on your way to getting better results in your corner of the world!
Sincerely,


---