Cleaning Body Side Moldings:
Ford Truck Powerstroke


It's only a matter of time before your body side moldings on your Ford truck become yellow and discolored from exposure to the elements. Cleaning the body side moldings will be a fairly easy and quick way to not only remove the discoloration, but make your truck that might be starting to looks its age, look fresh and new again! There will be very few things that will age the appearance of your truck like the door side moldings discoloring and yellowing...
Simple Steps to Cleaning the Side Door Molding on your Car or Truck


Before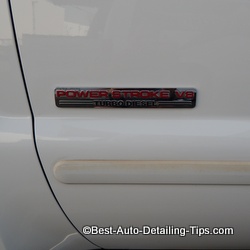 After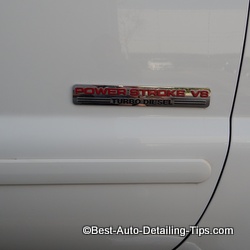 Pictured Above: As you can see from the shots above, the difference between the before and after of cleaning the body side moldings is dramatic! I can promise you that you will wish you had done this sooner once you see how much newer your car or truck will look after the yellowing and discoloration of the body side moldings have been cleaned to perfection.
The Tools for Cleaning Body Side Moldings

Back in the day, removing or cleaning the discoloration from side moldings required aggressive chemicals and techniques. Now with the invention of the amazing Miracle Eraser from Mr. Clean, and along with one of my favorite cleaners listed below, the process it incredibly easy and straightforward.
The Tools: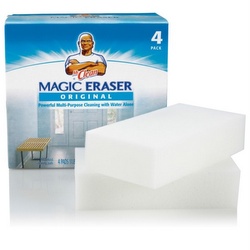 Mr. Clean Magic Eraser Cleaning Pads, 8-Count Box
I consider the Mr Clean Magic Eraser "tool" the 8th wonder of the world! It has so many amazing uses not only within the world of auto detailing but around the house.


Meguiar's D10801 Super Degreaser - 1 Gallon
One of my favorite degreasers and heavy duty cleaners.
The actual chemical I use in the video on this page.
Versatile product that can be custom diluted to suit your needs.

As a rule I dilute it down 4:1 for exterior heavy duty jobs and 10:1 for interior cleaning. (yes, I actually use this on many different interior cleaning jobs when traditional all-purpose cleaners prove ineffective.
You can see my full write up of the super-degreaser at that link.


Simple Green All-Purpose Cleaner 32 fl oz
Concentrate; mix to desired strength based on label instructions.
For the cleaning body side moldings, I use Simple Green straight (neet) without diluting it down with water.

Not a traditional cleaner or degreaser within the world of auto detailing, but still a fabulous cleaner with so many uses!
Not the degreaser I use in the video, but that degreaser only comes in a gallon size and not suitable for most people. If you insist on getting the exact degreaser I use in video, you can see my best degreaser here.



Chemical Guys CLD_201_16 Signature Series Orange Degreaser (16 oz)
Professional based citrus formula.
Concentrate; can be custom diluted based on your needs.
Perfect to clean car engine.
Versatile product for many other types of cleaning duties.
Perfect for any car owner or driveway detailer.
Darren's Professional Tip:

These (2) products make a deadly combination against many forms of dirt, scuffs, and misc. marks that can be found on both the inside and outside of your car. Use the video above to help in what is really a very simple and straightforward process of cleaning body side moldings.

Home

>
How to Detail a Car
>> Cleaning Body Side Moldings