Cyclo Polisher Review
Helping you make an informed decision!


For many people, the Cyclo Polisher will represent the winning combination of benefits when shopping for the top pick of automotive polishers. Whether you are a weekend warrior looking to work on your own car, or a professional detailer looking to take it to the next level, finding the best rated car polisher can be a frustrating process.
Generally any car buffer review will be more about selling you something, rather than helping you become an informed consumer first. Many guys think they are making an informed decision only to find out later that it was a decision made with limited information.
Cyclo Polisher Review

The unique design of the Cyclo Polisher is meant to duplicate the exact process of your hands when applying car polish or wax. Due to the hyped-up fear many associate with car buffers and swirl marks, this Cyclo Polisher for many represent the perfect solution to this common problem.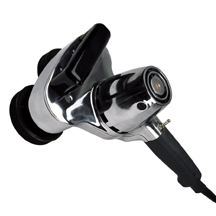 The only dual head polisher on the market
VES; vibration elimination system
An ideal choice for any true beginner as this is a slow speed orbital, not a high speed rotary
The metal Cyclo polisher pictured is what many consider the "old-school" metal version of this unique polisher. Most people shopping for a dual-head polisher like the Cyclo car buffer are looking for a lighter, updated version like the one offered below

Why Choose the Cyclo Buffer

Every choice in life will represent finding the winning combination of benefits over compromises; also referred to as a cost/benefits analysis. Use the checklist below to assess the possible benefits to you:
Built to last for home or professional use.
Orbital type polisher for any true beginner that will allow you to deliver true professional grade results with this kit.

Not my personal choice as the top pick of car buffers, but many others consider this their "go-to" as they really like the dual head action that cannot be found with any other of the car polishers on the market.
The polisher that many of the professionals in my area use to this day.



Cyclo Toolmakers 80-110/C-PG Model 5 Mark II Dual-Head Orbital Polisher with Backing Plates

Why the cyclo may not be the best choice

Unless you already have experience with car polishers and car buffers, it is often hard to assess what you will need in the short term as well as the long term. The following list will lay out some drawbacks to choosing the Cyclo car buffer as your top pick:
(2) polish pads that need to be cleaned, changed, and replaced.
Bulky design.
Antiquated aesthetics.
Darren's Professional Tips:

The world of car polishing and paint correction has been filled with so much hype it makes my head want to explode! Endless so-call experts and wannabe professionals will parade around their hi-priced car polishers as proof of their high-level paint correction skills.
On top of that, they will post countless pictures of their 5,000 hour paint correction job on some luxury or exotic car. (yes; that was highly embellished)
All this adds additional frustration and anxiety to people like yourself who want to take that leap into the world of car paint polishing, but are literally frightened away and frozen with anxiety due to all the crazy hype on the subject!


"Car polishing and paint correction can truly become an art! But you do not have to become a master of the art at the beginning. With the right encouragement and the right buffer and products, you can produce results that you will be amaze you with your very first time."


The industry has responded with buffers, polishing pads, car polishes that allow an absolute beginner to safely and effectively perform at professional level results right out of the box! If you are one of the people looking to raise the level of shine and gloss on your car without fear of damaging your car paint, see my car polishing for beginners page for a common sense, and doable approach to car polishing.
Cyclo Polisher:

What Would Darren Do (WWDD)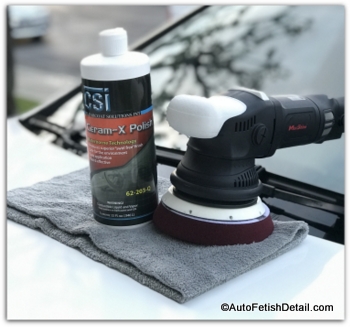 If you have made it this far into the subject of possibly getting yourself a Cyclo Poisher, you will likely realize how complex the subject of car polishing can become.
With the attempt to lead you into a direction that will get you started in a safe and effective way, I offer the recommendations of what I would do if I was in your situation.
The recommendations below will get you to that point while filtering out the endless noise that you can become overwhelmed by very quickly.
The picture to the right is one of my exact set-ups I use when polishing car paint. It is a picture of the Maxshine M15 Pro DA car polisher along with my favorite paint polish; the CSI Ceram-X Polish.
Dual-action polisher instead of Cyclo polisher



Maxshine M15 Pro Series II DA Dual Action Polisher, 1000W
The winning balance between performance and cost
Perfect polisher for a beginner that can perform professional level results
You could pay more for a "name brand", and you could pay less for a very cheaply made car polisher (once again; the winning balance in my world)
Plenty of power (more power than I even need as a professional)
Quality build and quality feel
Polishing Pads


Maxshine Medium Pro Foam Pad Stack - 5 Inch 3 Pack
Great kit to sample the 3 different types of pads: heavy duty, medium, fine
These are 5" pads designed for a 5" backing plate (the Maxshine polisher above has a 5" backing plate)
Car Polish

Ceram-X Polish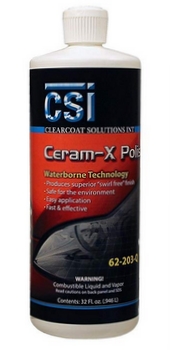 Not a compound, but a polish
Made with highly refined abrasive technology
The only polish required for 99.9% of all jobs on any type of paint and/or clear coat (fresh paint, fully cured paint, hard or soft clears, ceramic or non-ceramic clears)
For use by hand, any type of machine buffer, any type of polishing pad
Body shop safe

D1 Polish Enhancer

A finer grade of polish
Only needed for the extreme perfectionist
For use on dark or black cars by a person with a highly developed eye
Can be used independently if you are a hobbyist or car owner looking for slight paint defect removal and gloss enhancer
For use by hand, any type of machine buffer, and type of polishing pad
Body shop safe

The car polishes above are my favorite and my "go-to" polishes I have been using for over 15 years. While I continue to test many car polishes and compounds, at a professional level these polishes are what I consider my sure thing.
Car polishes safe for use on any type of paint, used with any type of polishing pad, any type of machine, or even if you want to polish a car by hand versus using either the Cyclo Polisher, or the dual-action polisher I recommend as a Cyclo Polisher alternative.
I hope you go away with more knowledge then when you arrived!
Sincerely,


---
---