Mr Clean Magic Eraser

Car Detailing Tips

I like to call the Mr Clean Magic Eraser cleaning pads the 8th wonder of the world! As miraculous as this little tool is, I still come across people who remain ignorant to its existence never mind the endless usefulness of these amazing wonders!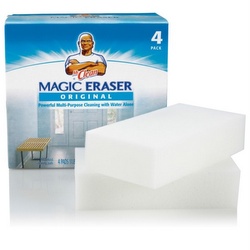 Made from the raw product called Basotect and produced by the worlds largest chemical company BASF in Germany, this material is most commonly labeled as the Magic Eraser but is private labeled under endless names.

I now refer to this "tool" as the 8th wonder of the world as it goes against all logic in its amazing abilities to clean surfaces and stains where traditional cleaners and cleaning cloths prove ineffective.

The Magic Eraser and You



Mr. Clean Magic Eraser Kitchen, Cleaning Pads with Durafoam, 4 count (Packaging May Vary)
An amazing "tool" that works wonders with nothing but water
Works on virtually any surface that allows the Magic Eraser to be rubbed along (this essentially means most hard surfaces)
Works even better when used in conjunction with some form of cleaner
Endless Uses Making Life Easier

I have been using these amazing "tools" in my professional detailing business and continue to find more and more uses. Delivering better results in the detailing process while at the same time saving time and effort is a winning combination.
Interior Car Cleaning Uses:

Remove black scuffs; door threshold plates, seating, center console, door jambs, etc.

Remove excessive haze build-up on windows (non-tinted windows only)

Exterior Car Cleaning Uses:
Bug removal
Road grime along rocker panels
Transfer removal. (transfer can be in the form of paint, rubber. plastic, etc.)

Darren's Professional Tips for the Mr Clean Magic Eraser:



Mr. Clean Magic Eraser Kitchen, Cleaning Pads with Durafoam, 4 count (Packaging May Vary)
Can be used dry, but not recommended.
Can be used with water (this is good, but you can go better with the right cleaner)
Will abrade certain surfaces if used with enough pressure and enough rubbing.
You control the amount of cleaning abilities with the amount of pressure and rubbing.
I can take the cleaning abilities of the Mr Clean Magic Eraser to higher levels of performance by using with the right cleaners.
Going from Good to Better

The Mr Clean Magic Eraser is an amazing and useful "tool" by itself...but you can take it to the next level by using it with an effective cleaner.
Below are the (2) cleaners I use professionally and will enhance your cleaning efforts of the Magic Eraser:
Simple Green All-purpose Cleaner



All-Purpose Cleaner - Stain Remover for Clothing, Fabric & Carpet, Cleans Floors & Toilets, Degreases Ovens & Pans (Original, 32 oz Spray and 2-67.6 oz Refill)
Throw away all the hyped-up dedicated car upholstery shampoos and cleaners
Simplify your life with this all-purpose cleaner with endless uses
Safer for your car and safer for your health
Comes in a concentrate so you can custom blend to suit your needs
Perfect for use with the Mr Clean Magic Eraser
The Magic Erasers as Detailing Tools:
Video Tutorials
Mr Clean Magic Eraser Summary

Want to learn more and more free auto detailing tips?
Don't forget to subscribe to my YouTube channel and pass this information along by sharing to your favorite site or blog; I bet you know of at least one other person that would benefit from this info.
Sincerely,


---