Meguiar's Car Products
Darren List of Favorites


While there is an almost endless list of Meguiars car products to choose from, as a professional detailer I certainly have my list of top performers that I have personally tested and use in my world of professional car detailing.
Over the years a number of their products have risen to the top of the food chain and continue to reign dominance as my first choice in car care and professional detailing.
Being the giver that I am, I decided to make a list of my must haves that are suited for anyone regardless of skill-set or experience.
Why Meguiar's Car Products?

Long history of quality products

Easy to get
Products that actually work
Professionally tested by Darren

Many people from driveway detailers to "I want to get into the business" folks go in search of wholesale detail products or "what the professionals use".
The good news is that car care for the professional and enthusiast alike can be much more simple than what most industry manufacturers would have you believe.
If it were up to the industry, they would have your garage or detail rig filled with a hundred different products; all dedicated products that drain your bank account and fill up space.

Darren's List of "Must Haves"

I am no Meguiar's spokes-person and I am not married to any one given manufacturer. This is the good news as I can objectively recommend any car care products I have tested and found to deliver exception results.
You can simplify your world and shop using the following secure links or you can go to the separate page to see and read my comprehensive review on each of the following products:
---
Meguiar's APC (All-Purpose Cleaner)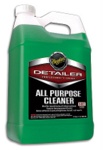 Simplify your world with a single product capable of 95% of all your car upholstery and interior cleaning
Concentrate; you can custom dilute with water
Safe on all car interior materials: carpet, velour, leather, plastic, vinyl

Go to Meguiar's APC now to get some for yourself

---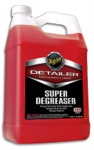 Non-caustic
Won't leave white residue like other degreasers
Concentrate; custom dilute with water
Safe for use on exterior, engines, and even interiors

Go to Meguiar's Degreaser now to get some for yourself

---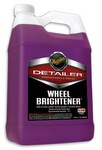 Acid based wheel cleaner; actually works on brake dust unlike the over-hyped, Ph balanced wheel cleaners

Safe for any chrome, clear-coated silver factory wheels, or painted wheels
A true time saver!

Go to Meguiar's Wheel Cleaner now to get some for yourself

---

Meguiar's Professional Car Products:
Professional Grade vs. Retail Grade


Professional Grade Detail Products:
If you are a professional or have plans to become one, then you will likely also have plans to be doing more cars, not less cars. The professional line of Meguiar's car products are perfectly suited for those planning on doing lots of cars, or for people committed to the Meguiar's line of car care products and want to shop for economical reasons with the larger size products.

Pros:
Products that actually work.
Products that have not been dumbed-down.
Products that deliver professional results.
Over-all, much more economical than retail sized products.

Cons:
Typically come in professional sized amounts for economical uses.
Often come as a concentrate for custom dilution ratios.
You will have to get separate spray containers and spray heads.
Will have to dilute down to smaller, useable sized sprayers.

Retail Grade Detail Products:
If you are what is considered a driveway detailer or just a car owner looking to take care of your own cars, then the gallon sized products above may seem over-kill to you. Or you may be committed to some quality products put out by Meguiar's and want to shop among the bigger sized professional grade Meguiar's car products in the name of being economical.

Pros:
For those of you with very limited need of actual products.
Packaged for easy and ready to use.
Perhaps more economical for you if you know you will need very little for your own car(s).

Cons:
Products have been dumbed-down for consumer use.
Products that will produce marginal results compared to professional grade.
Cannot custom blend the cleaners to suit the cleaning task at hand.

Darren's Professional Tips: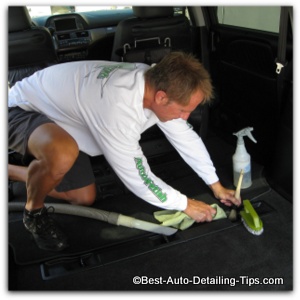 Since I attract a very large and diverse group of people; all with different needs and wants, it is impossible to know what is the perfect fit for you.
If you are a simple car owner looking to take care of a single car (maybe even a couple cars), retail sized car care products might be a better fit for you. You can use any links within this site to access Amazon to help find that winning fit based on my recommendations, along with the reviews that can be found on Amazon.

All the products above are products even a driveway detailer, non-professional, or any car owner would find endless uses for. So with that said, I still consider most of them appropriate for most people.
Hope you have as much success with them as I have....


---