Meguiars Synthetic Xpress wax
A must have!


Meguiars Synthetic Xpress wax is a must have for any professional detailer and one I use both at a professional level and on my own personal cars.
Whether you are looking to break into the world of professional car detailing or simply looking to make your own car more fabulous than ever, finding the best car wax will have your head spinning!
With endless opinions and voices, let me be a voice of reason within an endlessly noisy subject of car care and professional auto detailing.
Because if you were to follow the lead of car care manufacturers, you would have a garage full of endless products and an empty bank account in no time!
Why Meguiars Synthetic Xpress Wax?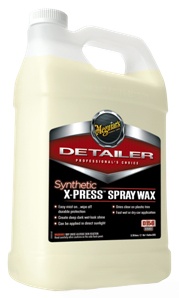 Unfortunately any car care product will have what seems like an endless list of benefits, but rarely will you ever find a product that actually informs you to the degree necessary for you to make a truly informed decision.
"Every tool and every product has benefits, but unless you understand the limitations of a product, it will be hard to ever make an informed decision."
So understanding the "How to wax a car" is important, just as understanding the "Why to pick this wax over that wax" is equally important; and rarely are you ever going to get that type of perspective from anyone!
The Pros, the Cons, the Limitations

The Pros

As easy as easy can be!
Non-staining formulation; can be used on all exterior surfaces including black trim.
Not only safe for black trim, but gives it a healthy sheen that is not overly shiny.
Can even be used on windows.
Can be used in direct sunlight, on hot paint.
Economical as it only comes in a gallon size.
Rivals the beauty enhancement of traditional paste waxes. (seriously!)


The Cons

Comes in gallon size only, so if you are a driveway detailer, you might consider it over-kill....until you see all the endless benefits over there in the left.
Will not last as long as a traditional paste wax or synthetic liquid sealant.
Doesn't come with a secret Genie that will apply it for you; but none of them do.


Get Yours Now!

I believe every person or detail professional needs to have at a minimum, one quality paste wax as well as one quality non-staining spray wax like this Meguiar's Synthetic X-press wax.


Meguiar's D15601 Synthetic X-Press Spray Wax - 1 Gallon
Everyone who has tried this wax has become a huge fan.
As easy as easy gets.
The most versatile wax I use professionally. (see recommendations below for additional favorites of mine)

What is considered a maintenance wax, rather than a more durable paste wax or car paint sealant.


Meguiars Synthetic Xpress Wax:

You have choices
Whether it is my websites or my YouTube channel, I have a very wide audience. From professional to complete beginners come looking for their answers to cosmetic car care. For this reason whenever possible, I like to offer retail products that are often more appropriate for the car owner or driveway detailer. The products below are a great way to test out some of my favorites below, without the commitment to buy professional sized products.


Turtle Wax T-477R ICE Spray Wax - 20 oz.
An amazing product from a company that no professional detailer would ever admit to using (not publicly anyways)
Can go toe-to-toe with the Meguiars synthetic Xpress wax all day long!
As easy as easy gets when using.
Excellent user experience.
Also a top rated spray wax on Amazon. (Clearly I am not alone in my fondness of this product)
All the same winning benefits of the Xpress wax from above.


Eagle One 836609 Superior Nano wax - 23 oz.
Another retail product no professional detailer would ever admit to using.
A relatively new product from a long standing manufacturer in cosmetic car care.
Nano based technology (nano technology refers to the chemistry and engineering below the molecular size. If you click the link that takes you to Amazon, there is a short video by this product that defines just how small the chemical equation is for this nano-engineered spray wax)
All the winning benefits of the other products on this page.
A product that delivers great results along with a great user experience.


CarGuys Hybrid Wax Sealant - Most Advanced Top Coat Polish and Sealer on the Market - Infused with Liquid Carnauba for a Deep Hydrophobic Shine on All Types of Surfaces - 18 Ounce Kit
One of my favorite retail products that performs to a professional level!
You will not be disappointed!
Amazing Amazon reviews!
If I had to live with just one; I would be happy with this.

Meguiars Synthetic Xpress Wax:

What Would Darren Do (WWDD)
Often I am asked by people who trust my recommendations and simply do not want to do the necessary research to make an informed decision, so they ask me:
"Darren, just tell me what you would do!"
And to this I say, "I totally get it"!
And for this very reason I am going to lay out not only what I would do, but the choice in a car wax I consider the better choice over the Meguiars Synthetic Xpress Wax.
The car wax I think represents the winning balance of features and benefits most f you reading this can likely appreciate.

Professional grade (originally developed for use within the auto body world (body shop safe product)
Non-staining formulation (this means while I am waxing my car paint, I can literally use this wax on all black trim, window gaskets, sunroof gasket, etc., etc.)
The gallon of Xpress wax from above is to large of a quantity for most car owners and driveway detailers
Can be used in direct sunlight on hot paint
Can be used as a leather conditioner on your car leather
Can be used on all interior plastic, vinyl, coated leather, and rubber materials both inside and outside your car.

Darren's Tips: If you have tuned into my YouTube channel you may be aware that I introduced this product to the world of detailing through YouTube many years ago. The Meguiars synthetic Xpress wax is a great product, but all the unique characteristics of the Megs wax was actually developed much earlier with the CSi Q_7 wax that I had been using years prior to creating a video about the Megs Xpress wax.
Because the CSi Q-7 wax was not available to the retail public before now, I found an alternative to introduce people to, as well as some unique characteristics for using a wax that most people had not thought of before.

Any of the spray waxes on this page will deliver excellent results along with a great user experience.

I these spray waxes weekly on my own cars and for all my maintenance details.
I use with a standard micro-fiber cloth that has been folded twice.
Spray each panel with 1-2 shots of wax, spread and apply with one side, then flip your micro-fiber over to buff to perfection.

With so many benefits, I consider any of these a "must have" if you are just starting out and trying to complete your detail product checklist.
I use this in direct sunlight on any color paint (including blacks). After I have waxed everything but the windows, I use the same micro-fiber cloth I used to wax the car with, and now go over the exterior windows with the damp side first, then buff to perfection with the dry side.
Can duplicate the same visual perfection of a traditional paste wax in a fraction of the time.
As a rule, I apply a quality paste wax as the base coat every 3-4 moths on most cars, then use this as a wax extender or for maintenance details.
Don't Forget!

That's right....don't forget to pass this along to anyone you might think can benefit from this information. Make sure you check out my YouTube channel where i show specific tips and tricks taken from my world of professional detailing.
You can find the link at the top or bottom of most pages.
Sincerely,


---