Restore Car Paint:

How a True Beginner Can Get Professional Results

If it hasn't happened already, learning to restore car paint will produce and endless stream of chatter from a limitless list of online resources. And here you are facing the challenges of figuring out if what I am about to tell you is worth a darn!
In today's world of the internet, information overload will likely have most of you frustrated at best, and misinformed at worst!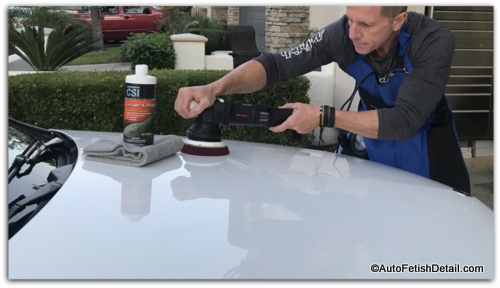 Restoring your car paint and the best way to go about this will produce almost as many opinions as there are people you are willing to ask. As a professional detailer with over 25+ years of experience, I am not a washed up detailer who has sold his soul to some big name manufacturer that is about to attempt to shove my biased opinion down your throat.
Welcome to the New Age of Technology

Likely in your search to find the best way to restore your car paint you have come across what feels like an endless stream of opinions.
Today's world of social media and the Internet allows anyone with an opinion (have you ever met anyone without an opinion?) to publicly parade any half-baked opinion all over the Internet regardless of any real world experience!

And I am willing to bet that you are frustrated and confused at best; and misinformed with bad information at worst.
I am willing to bet that the following are just a few examples of some of the endless opinioons that have been thrown your way:

You can't do it yourself (you'll put someone's eye out!)

You have to do it by hand (only polish a car by hand because those power buffers will damage your paint)

Never use a buffer on your car paint (you will leave swirl marks and burn an edge)

You can only restore your car paint with a buffer, but never attempt this yourself (only allow a trained professional to restore your car paint)

Blah, blah, blah, blah, blah!!
"Within today's world of the Internet, most of you will find yourselves drowning in a sea of endless chatter and opinions. Every time you ask, you get a different opinion. You are literally frozen with anxiety looking for a solution to restore car paint that is both reasonable and doable."

I promise, you are not alone!
The really good news is that not only has the industry responded with superior products, but professional grade tools that a true beginner can use for the first time and have the ability to produce professional grade results!
But with that said, if you want a fighting chance at a task most of you will find daunting at a casual observation, I can at least direct you in a direction that will deliver professional results, along with a great user experience.
How to Restore Car Paint:

Simple. Smart. Serious.
Believe it or not, you really can have a fighting chance of getting both the products and tools to restore car paint. Have the ability to restore the shine and luster to your aging car and do it as a true beginner, and do it without breaking the bank!
Welcome to a new world! A world filled with many choices that allow a complete beginner to produce professional results.

Adam's Swirl Killer Polisher (polisher only)
The winning balance of power, quality, cost
Ideal for any beginner or home hobbyist
Ideal for any beginner detailing business owner
Adam's Swirl Killer Car Polishing Kit (full kit)

From true beginner to experienced professional
As safe as safe can get to polish cars and take your car from ordinary to extraordinary

Get professional results straight out of the box
Likely the last and only polisher most of you will ever need (remember that "need" and "want" are two different things. often guys "want" every car polisher made simply because they can)

Countless positive reviews

Sure you can spend more on a car buffer and perhaps feel more like a "professional", but I can promise you that you really can keep it simple and this car polisher will take you further than most of you will ever expect or require
Restore Car Paint:
Time to get off the fence
Having choices is great!
But having too many choices also finds people overwhelmed with an inability to actually make a decision. making no decision is a decision.
And doing tomorrow what you did today will deliver the same results.

If you are truly tired of the same results; you're gonna have to make a decision!
The struggle is real and significant. But I am willing to bet that if your car paint didn't need restoring of some kind, you wouldn't be here reading this page.
Looking for expert opinions on the best products and tools to restore the shine on your car paint. Bringing back that shine and restoring the love affair you used to have with your car.
And now you can finally learn how to polish that car of yours so you can stand back and wet yourself as you look at the work of art you have created! Seriously....you can do this with any of the kits above.
Both kits are professional grade equipment and products, but each kit still remains unique. If you go with the kit that has the detailing clay then you don't need to shop for that separately.
But know that using a clay bar (detailing clay) as part of the paint restoration process is critical for not only final results, but the user experience at every step of the paint restoring process.
Restore Car paint Summary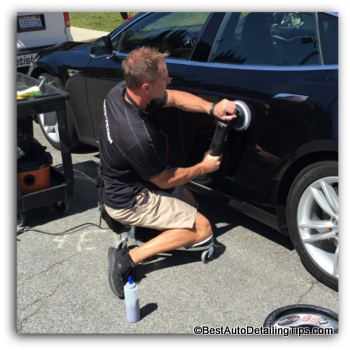 Many of you will literally be frozen with anxiety and fear; never willing to pull the trigger, never getting any closer to restoring the paint on your car to that head turning shine that is possible....even for a beginner like yourself.
Despite the hundreds and hundreds of dollars you could spend if you were to listen to the endless so-called experts who speak from very limited real world experience, I am here to tell you that this buffer and polishing kit is not only an ideal place to start, but will likely be the last polisher you will ever need.
You really don't have to over-think it. I know the industry wants to separate you from as much of your money as possible, but I simply want to show you how to get the results you are looking for; and do so sooner not later!
And after you have finished restoring some serious shine and depth to your cars paint, you may want to check out my top rated picks in best car wax to lay down some serious protection to that work of art you have just created.

Sincerely,
Darren Priest

---