Restore Car Paint:

How a True Beginner Can Get Professional Results

If it hasn't happened already, learning to restore car paint will produce and endless stream of chatter from a limitless list of online resources. And here you are facing the challenges of figuring out if what I am about to tell you is worth a darn!
In today's world of the internet, information overload will likely have most of you frustrated at best, and misinformed at worst!
Restoring your car paint and the best way to go about this will produce almost as many opinions as there are people you are willing to ask. As a professional detailer with over 25+ years of experience, I am not a washed up detailer who has sold his soul to some big name manufacturer that is about to attempt to shove my biased opinion down your throat.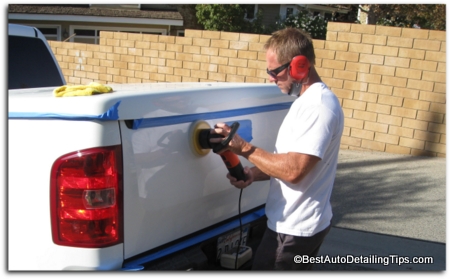 Welcome to the New Age of Technology

Likely in your search to find the best way to restore your car paint you have come across what feels like an endless stream of opinions.
And I am willing to bet that you are frustrated and confused at best; and misinformed with bad information at worst:
You can't do it yourself.
You have to do it by hand.
Never use a buffer on your car paint.
You can only restore your car paint with a buffer, but never attempt this yourself.
Blah, blah, blah, blah, blah!!
"Within today's world of the Internet, most of you will find yourselves drowning in a sea of endless chatter and opinions. Every time you ask, you get a different opinion. You are literally frozen with anxiety looking for a solution to restore car paint that is both reasonable and doable."
You are not alone!
And the really good news is that not only has the industry responded with superior products, but professional grade tools that a true beginner can use for the first time and have the ability to produce professional grade results!
How to Restore Car Paint:

Simple. Smart. Serious
Believe it or not, you really can have a fighting chance of getting both the products and tools to restore car paint. Have the ability to restore the shine and luster to your aging car and do it as a true beginner, and do it without breaking the bank!
Welcome to the age of technology!
Restore Car Paint:
"As Simple as Simple Can Get!"




Griot's Garage 11620Z Orbital Correcting and Wax Kit
The actual random orbital polisher I use professionally.
A kit that contains everything 95% of you will ever need to polish your own car.
Kit even includes detailing clay to decontaminate your paint prior to polishing.
It is very hard to beat the value brought together with this kit!


TORQ BUF501X 10FX Random Orbital Polisher Kit (Polisher + 9 Items)
From true beginner to experienced professional.
As safe as safe can get to polish cars and take your car from ordinary to extraordinary.

Get professional results straight out of the box.
Likely the last and only polisher most of you will ever need or get.
Countless positive reviews.

Sure you can spend more on a car buffer and perhaps feel more like a "professional", but I can promise you that you really can keep it simple and this car polisher will take you farther than most of you will ever expect or require.
"Did you really want to go away and read another review on how to restore your car paint?"
Because likely that is what is going to happen. I am willing to bet you have been thinking about buying a car polisher for awhile now. And yet here you are are reading about doing it, instead of actually doing it.
But now you can...even if you are a complete beginner!

And now you can finally learn how to polish that car of yours so you can stand back and wet yourself as you look at the work of art you have created! Seriously....you can do this with this kit. it has everything you need. The only other thing I recommend is that you simply pick yourself out a clay bar kit and decontaminate your paint before you go and polish it. Polishing on silky smooth paint will greatly enhance the finished product, along with the experience itself.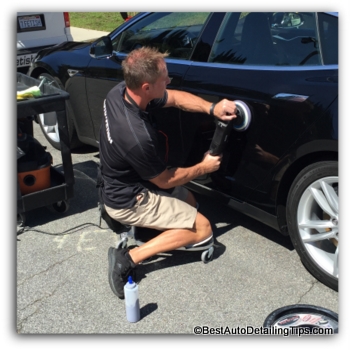 Many of you will literally be frozen with anxiety and fear; never willing to pull the trigger, never getting any closer to restoring the paint on your car to that head turning shine that is possible....even for a beginner like yourself.
Despite the hundreds and hundreds of dollars you could spend if you were to listen to the endless so-called experts who speak from very limited real world experience, I am here to tell you that this buffer and polishing kit is not only an ideal place to start, but will likely be the last polisher you will ever need.
You really don't have to over-think it. I know the industry wants to separate you from as much of your money as possible, but I simply want to show you how to get the results you are looking for; and do so sooner not later!
And after you have finished restoring some serious shine and depth to your cars paint, you may want to check out my top rated picks in best car wax to lay down some serious protection to that work of art you have just created.

Sincerely,

---
Home Page

>>
How To Section
> Restore Car Paint